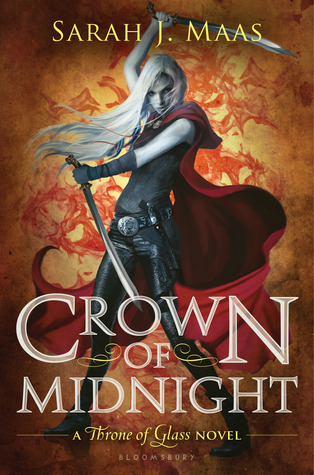 Crown of Midnight
by Sarah J. Maas. Bloomsbury USA Childrens; 2013. 418 pages. Ebook.
Having just finished
Throne of Glass
the day before, I was beyond excited to start
Crown of Midnight
. It did not disappoint.
Now,
Throne of Glass
was enthralling; I loved every second of it - the relationships, friendships, contests, battles, everything.
Crown of Midnight
only proved to further enhance the characters, plot, and setting and Celaena Sardothien's world.
There were almost constant (dare I say relentless) twists, turns, and complications that kept me hooked. Some extremely monumental events occur (which I will not mention, as I try to keep spoilers either minimal or non-existent in my reviews) that will undoubtedly shake you up and leave you wondering what on earth just happened. It's heartbreaking, violent, and wonderful all in one. It's also incredibly unpredictable. In my opinion, there is honestly no way you can really guess what is going to happen at any given moment.
The relations between characters are also intensified and reach brand new levels of depth and conflict. It becomes very complicated. Let's start off with Chaol, who is an extremely secretive, intelligent, and fiercely loyal king's guard. Maas does truly remarkable work in portraying Chaol's many inner conflicts, such as how he must navigate the court politics and where his true loyalties lie. He is fiercely and unwavering loyal to the king, but also now has Celaena, whom he continues to become more bewitched by and protective of every day. Chaol was already an important character in the first book, but his role becomes much, much larger in this second book and allows an already loved and fascinating character become that much more intriguing. The chemistry between Celaena and Chaol is also perfect; he knows just how to deal with her, and the dialogue and moments between them are incredible fluid.
Secondly, we have Dorian. I feel that Dorian has matured quite a lot between the first and second novels. He is beginning to understand his role as Prince and is finally developing his own strong opinions, as well as gaining the courage to stand up to his father if he doesn't agree with him. Dorian has a lot to deal with; he struggles to not go against his father and role as Prince, but he does not always want to go with what the king may want. Dorian also makes a rather shocking discovery in the book (against, no specifics for no spoilers) that leaves him with many questions and potentially dire consequences. Dorian and Celaena continue to go through many things together, and we are able to witness a true, meaningful friendship form between the two, creating an unbreakable and incredibly strong bond between them.
Finally, Celaena. Celaena has countless sides to her personalities. She's perfectly flawed. Celaena also undergoes many changes throughout this book - some good, and some awful. In
Crown of Midnight
, readers are finally able to see the depths of Celaena's mind, where her vengeful and incredibly emotional feelings dwell. She turns almost robot-like, working only for she knows. Celaena also has this almost limitless courage, though not all of it is necessarily wise. Maas is truly a master of character development, which is completely evident with Celaena.
While many people may see Celaena, Chaol, and Dorian as a love triangle, I'm not sure I completely agree with that. Celaena undoubtedly has feeling strong feelings for both men, but as the novel progresses we are able to discern the
types
of feelings that she has for both men, and we can begin to easily understand which man is truly meant for Celaena.
Crown of Midnight
takes
Throne of Glass
to an entirely new level. It's like eating the perfect ice cream and thinking it can't get any better, but then you add amazing toppings and it's suddenly a whole new flavorful and delectable world. The violence and intensity completely skyrocket as we are able to see the severity of Celaena's dark side.
I would also like to add that Maas' writing is flawless. She knows how to tell a fantasy story. There is no confusion, no overstatements, but also no understatements. It's perfect. Overall,
Crown of Midnight
is receiving five stars, much like its predecessor. I just can't help it.