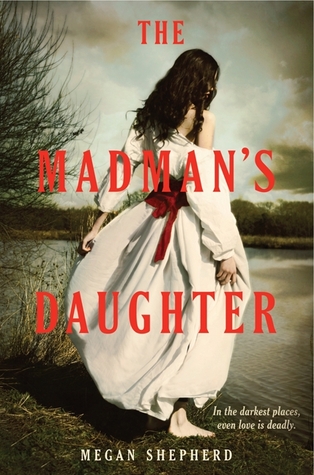 The Madman's Daughter by Megan Shepherd. Balzer and Bray, 2013. 464 pages. Ebook.
I've had this book sitting in my Kindle for quite a while now, and I can't believe I didn't read it sooner.
I subscribe to daily
Bookbub
alert emails, which sends daily or weekly digests that highlight Kindle books that are on sale for $2.99 or less (I actually recommend it if that's something you're interested in). Now, you do have to sift through these sometimes to find the real gems, but when you do, it's totally worth it. For instance,
The Madman's Daughter.
Just the summary alone had me hooked. It's an enticing
story inspired by H.G. Wells'
The Island of Dr. Moreau
, and boy, did it deliver. There were so many parallels to the original, yet also so many differences that that made it an absolutely perfect balance overall. I thought this brought a delightful twist to Wells' original haunting page-turner, and I had a hard time putting it down.
The story follows Juliet Moreau, whose father is the infamous Dr. Moreau. Dr. Moreau has been driven out of the country after his controversial experiments become public and he faces great public shame and potential legal conflicts. Juliet is left alone - her mother eventually dying of illness - and is forced to find work wherever she can take it, as her father's disgrace has also left her in disgrace and ill favor of society. Through unexpected events, she ends up on her father's island with Montgomery, her childhood friend and servant, and Edward, a shipwrecked man they take aboard on their journey to Dr. Moreau's island. Once on the island, Juliet discover that her father has not discontinued his experiments, but is still working steadily away at things she never imagined...
Simple put, Megan Shepherd is master storyteller. Though the plot was somewhat predictable at times, it was also done so in a way that was almost unpredictable. I know, you probable think I sound rather contradictory, but hear me out: have you ever read something that seems familiar, yet is entirely new, or you feel like something is going to happen, but you don't know how or when? That's how I often felt while reading this, and it was perfect. I felt so engaged and enjoyed every gory and unnatural twist and turn that Shepherd threw at me.
It definitely had its gruesome moments, but they weren't excessive or unwarranted; they fit perfectly in each place and brought just the right amount of creepiness and horror to the narrative. This is a psychological journey as much as it s a battle for survival on this island filled with unnatural beings.
I found Juliet's personality quite likable; she was headstrong and determined in a way that I don't often see. She may have turned a blind eye in the beginning to what her father was doing, but once she was faced with facts, she accepted them and acted accordingly. Though Juliet did make a few impulsive moves (what main character doesn't?), she didn't do anything exceptionally stupid, which often frustrates me with headstrong, stubborn female protagonists. I found her incredibly intelligent, and I absolutely loved the internal struggle between giving into her scientific-minded side versus her more rational, ethic-oriented side. I thought it brought up an important topic and discussion on the morals of science - how much is too much? at what point does science cross a 'moral' line?
is
there a line if it's all for the sake of knowledge and advancement?
Montgomery and Edward were also two captivating gentlemen, and I enjoyed slowly unraveling their personalities and actions to find out more about them and how they became the men they are. The romance between Montgomery and Juliet as well as Edward and Juliet was a bit strong and it could have easily been removed, but it was an interesting element that created a more developed and complex storyline among the characters - though it did create the dreaded love triangle.
We also have Juliet's father, the madman himself. I actually don't want to discuss him too much because I feel as though he is one of those characters that you really have to experience yourself. However, I will say that Shepherd did exceptionally complex work in creating his character: he is at first depicted as a loving father enraptured in science, but slowly revealing his true, inner nature and inability to deduce when science goes too far.
This ended up being the perfect Halloween read. It was truly spooky, and I found myself becoming so absorbed in the creepy, unexpected happenings of the story that I hardly noticed the time fly by - though I did, however, notice when absolutely anything around me moved or made an unnatural sound; it's very easy to get sucked in, and I certainly noticed an eerie atmosphere surrounding me as I read it.
Overall, I am giving
The Madman's Daughter
the big five stars! I had such a great time reading this, and I was absorbed from page one: the plot was intriguing and complex, the characters were well-developed, and it kept me both entertained and in suspense.
Get more reviews in your inbox and subscribe to Forever Lost in Literature!
You might also like:
Uprooted by Naomi Novik