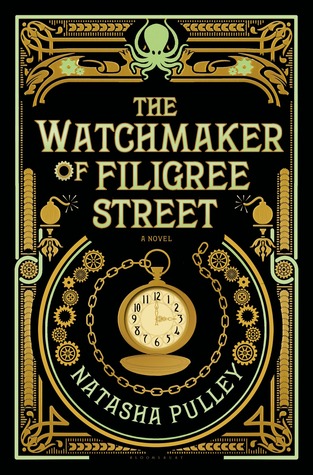 The Watchmaker of Filigree Street. Bloomsbury USA, 2015. Hardcover/Hardback. 318 pages.
I love the cover art of this book immensely, and the hardcover edition of the book itself is jacket-less with a cut-out where the watch is... it's lovely.
The basic plot of
The Watchmaker of Filigree Street
begins when a mysterious gold watch appears on the bed of Thaniel Steepleton, eventually saving him from a bomb and leading him to the mysterious Keita Mori. At the same time, a young Oxford student named Grace Carrow is currently working on experiments to prove that the elusive ether exists. This all takes place in a wonderful Victorian London setting with brief, infrequent trips to Japan.
I loved the concept of this story; it sounded mystical, magical, intricate, and full of intrigue, and it delivered all of that. Unfortunately,
how
the story was delivered was not as skilled as expected. There are three main characters to focus on - Thaniel, Keita, and Grace - and they all had the potential to become complex and multi-dimensional, but sadly fell short of that. Thaniel's actions also didn't always make sense, and his interactions with Grace were confusing. The dialogue felt jilted and clumsy many times throughout the novel, and it felt like the characters were being forced to say awkward things that never quite made sense. This was actually a problem found within larger areas of Pulley's writing as well, such as in her descriptions and explanations; the way in which things were described was sometimes done in such a way that it was hard to discern the true meaning of her words.
Another area I struggled with was the setting changes. Pulley takes you back in history, then doesn't revisit that again for about a hundred pages, leaving me feeling rather lost. Some of the backstory and plot created for this story didn't ever exactly seem overly clear to me. I feel as though Pulley needed to spend more time developing her plot and successfully weaving it all together to create one coherent story.
The ending also became a bit too.. jumbled. There were too many things that were just bunched up or didn't make sense. Everything culminated very quickly; nothing happened for a majority of the story, and then suddenly everything was happening, and none of it really made much sense.
On a more positive note, I loved hearing about how the watches and clocks were made, how the various gears worked, etc. - I assume Pulley did research for this or was already knowledgeable on the subject; either way, it definitely showed. This was one particular aspect of the novel where Pulley excelled, and she has a gift for weaving in something with such history and intricacy into the story. Thaniel's work as a telegraphist was also immensely fascinating, and it was enjoyable to read about.
Overall, I am giving
The Watchmaker of Filigree Street
three stars. Despite its promising plot, the characters and plot were not as developed as they could have been, and there were just a few too many issues with the writing. However, I would still recommend this to someone interested, as there are many people who have immensely enjoyed it regardless of any flaws.
You might also like: