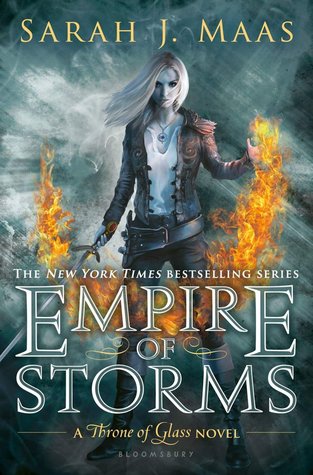 Empire of Storms by Sarah J. Maas. Bloomsbury USA Childrens, 2016. Hardcover. 704 pages.
Note: Everything in this review is spoiler free in regards to this particular book. There are potential mentions of plot points that may not have been revealed in earlier books, so if you are not caught up with the series, you may want to save this review for later.
I finished
Empire of Storms
a while ago, but I have spent weeks trying to figure out how to write a review for this book. It was incredible, yet at the same time it wasn't the
best
thing I've ever read. It's been such a jumble trying to fit all of my thoughts into a coherent review.
One personal problem (which was no fault of this book) was that I had a hard time remembering details from the earlier books of the series while waiting for the new one. I knew this would be a problem, so I made use of
Book Series Recaps
' summaries of the first four books and they helped immensely, so a big shout-out and thank you to that website! And although this helped immensely, I do still think that I would have benefited a lot more from actually re-reading the books because the plot lines are getting more and more complex with an ever-expanding cast to boot, but I didn't have the time (or patience) to do so before diving into Empire of Storms.
Let's start off with characters. All of our favorite and not-so-favorite characters are present and ready to kick ass, which is exactly what they do over ~700 pages of action-packed goodness. The shifted POV chapter style of the former books is still present in the fifth installment, and yet again I actually enjoy it. I think I most enjoy the fact that it is not first person narration, so it does not get confusing or annoying figuring out who is speaking. I really enjoyed just how wide-ranging the POVs were, and I was thrilled to get some more extensive chapters from Elide, Lorcan, Lysandra, and Aedion. They were all wonderful and added such great depth to their development.
My one caveat with this, however, was that I found myself missing Aelin for a large amount of the book! We don't even get to see her until quite a few chapters in, and that was not okay with me. I loved delving into other characters' minds and events, but at the same time... I just wanted to be with the main character whose journey we've been a part of this entire time; she's the strongest part of this series. And this might be an unpopular opinion, but I was actually okay with Chaol not being present in this book, as his storyline just wouldn't have fit in with the rest of what was going on.
The plot and pacing of Empire of Storms was just right. I was easily drawn in at just about every moment, and whenever it seemed like I might start getting tired of a certain scene, Maas shifted over into a new, more intriguing setting. The only exception to this was some of the scenes in which Aelin uses her magic. Look, I get that her magic is huge, all-encompassing, and just all-around insane, but... it felt just ever so slightly overdone and over-described at various times. This could also be said about some of the sex, but I didn't find them to be quite as annoying as others seem to. I didn't think there was anything particularly wrong with them, but I felt like it was slightly too similar to ACOMAF? Maybe it's just me. But
anyway
, the rest of the book was incredible and I am now immensely excited for next year's release!
I particularly liked that Empire of Storms seemed to have the main goal of setting up the plot and story for the sixth book and what is sure to be an immense, epic battle. I felt like a lot of loose ends were being wrapped up in order to set up for the impending events, while also creating plenty of new points for the next book. Overall, I loved this book and can certainly say that Maas has created yet another masterpiece. I am giving
Empire of Storms
four-and-a-half stars!
You might also like:
A Court of Thorns and Roses by Sarah J. Maas
A Court of Mist and Fury by Sarah J. Maas
Nevernight by Jay Kristoff
A Shadow Bright and Burning by Jessica Cluess
Daughter of Smoke and Bone by Laini Taylor