First Chapter Tuesday is hosted every Tuesday by Diane over at
Bibiophile by the Sea
. Join the fun by making your own post and linking up over at Diane's blog, or simple check it out to find more new books to read!
The Girl from Everywhere by Heidi Heilig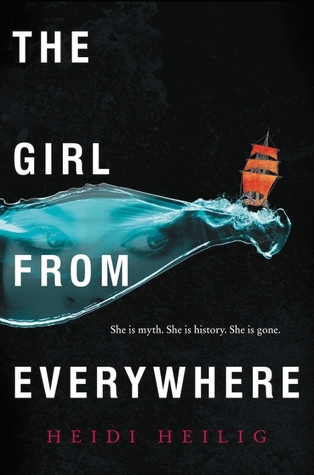 Greenwillow Books, February 2016. Hardcover | Kindle | 443 pages
First paragraph:
"It was the kind of August day that hinted at monsoons, and the year was 1774, though not for very much longer. I was in the crowded bazaar of a nearly historical version of Calcutta, where my father had abandoned me.
He hadn't abandoned me for good - not yet. He'd only gone back to the ship to make ready for the next leg of the journey: twentieth-century New York City. It was at our final destination, however, where he hoped to unmake the mistakes of his past."
I just started this book a few days ago, so I'm not too far in, but so far I am loving this book! I'd had my eye on this one for a while and had only a basic idea of what it was about, but I was still very on the fence about it. I'm really glad I picked it up because it's so unique and I am loving the entire premise!
What do you think? Would you keep reading?

(And feel free to join in and make your own post!)
If you're enticed by this chapter, be sure to check out the full synopsis on Goodreads!
*Excerpt taken from the novel itself; I do not claim to own any part of the excerpt.