*The Hate U Give will be released Tuesday, February 28th!*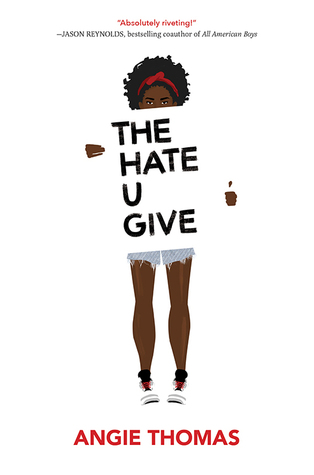 The Hate U Give by Angie Thomas. Blazer + Bray, 2017. Hardcover. 464 pages.
*I received a physical ARC of The Hate U Give in exchange for an honest review.*
The Hate U Give is absolutely a must-read for pretty much everyone.
This book is important, honest, and incredibly powerful. Angie Thomas has easily written one of the most timely and influential books of the year, and this book is sure to make waves.

From a simple perspective, this story tells the tale of a young black girl who witnesses the shooting of her unarmed friend, Khalil, by a white cop. But, as is expected, this book is so much more. Not only does it cover this important issue, but it also covers the challenges that black people face everyday. Starr is from a rough neighborhood and struggles with trying to be 'ghetto Starr' in her hometown and hiding that side of her when she attends her predominantly white school in a more well-off neighborhood. It covers the topics of gangs and selling drugs and why it is so common for the people in her neighborhood to be a part of those actions. There are so many topics covered, and all are done in an informative yet compelling manner that draws the reader in and makes it possible to truly hear these struggles.
I have never experienced the things that Starr and her friends and family experience every day, and I felt that Thomas conveyed the reality of their situation so incredibly well. I felt as if I were in their world, finally attempting to fully understand what it is like. Of course, I know I'll never truly understand it, but this book was so realistic and honest that I could not stop thinking about it for hours after I put it down. I was hooked throughout the entire book. My attention span is not exactly the greatest lately due to a great deal of stress and anxiety, but when I was reading this book I didn't think about anything else but Starr and her story.
The characters were all brilliantly written. Every single person had a wonderfully distinct, unique personality that made them all vibrant and unforgettable. I loved Starr's mom for being such a powerful example of strong woman who knows how to make a statement and take charge. I loved her dad for doing what he always felt was right for his family and not backing down for anything. I loved Chris, her boyfriend, for being a white person that was willing and ready to shut his own mouth, listen, and try to understand the struggles of black people. I just loved them all. There are definitely some reprehensible characters in this book that I didn't love, but they were still written in a manner that made me interested to know more.
Despite the extremely successful aspects of this book that I have mentioned, there were a few minor issues that bothered me that had to do with some of the plot, which did drag on a bit too long in some areas. I also found myself frustrated with Starr a few too many times - she pushed too many people away and didn't seem to really do nearly as much as she thought about doing. I felt let down by many of her actions. Despite this, I did still really enjoy Starr overall and her personality was incredibly entertaining.

I don't mean to sound like a broken record, but this book is extremely important, and is a book that I think everyone could learn from. Definitely pick this one up if you have the chance. Overall, I am giving The Hate U Give four-and-a-half stars!