*The Empire's Ghost is now available!*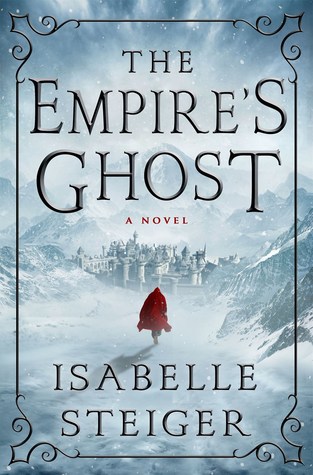 The Empire's Ghost by Isabelle Steiger. Thomas Dunne Books, 2017. Hardcover. 432 pages.


Although
The Empire's Ghost
is only a little over 400 pages, it took me an exceptionally long time to read this book. I think reading this book slowly really enhanced my enjoyment of it, especially because now I find it disappointing not to have this book as my go-to on my Kindle to read for when I'm at university or on the go - it become such a companion to me. But I digress, let's move on to the review!
The Empire's Ghost
is the first book in a new fantasy series in which the great empire Elesthene rose and at the same time ended the use of magic. (If you want a more thorough summary, I definitely recommend you check out the
Goodreads
summary, as it will provide much more information.) Honestly, the more I think about this book, the more I love it, and I definitely plan to purchase a copy of this book for myself.
The most prominent thing about this book, in my opinion, is that there is a lot of dialogue. That might sound odd, but it really is true. Fortunately, I found Steiger's dialogue to be extremely entertaining and realistic, and I really enjoyed it. I have never been a huge fan of extensive action scenes in the first place, so the amount of action that was interspersed throughout this book was perfectly balanced. Plus, the actions scenes were wonderfully written, and every sword battle or confrontation was written with precise detail and an engaging narrative.
There is a lot of politics, strategy, and social play at work here, and I loved every second of it. The political interactions and discussions included so many subtle snide remarks and wisdom that I could not help but hang on to every word.
The characters in
The Empire's Ghost
are amazing. There is a wide variety of characters, which extremely impressed when I discover how distinct each character's voice was. Along with the many characters, there are also many alternating third person points of view throughout this book, and I - surprisingly - didn't really mind. Each character had such an interesting storyline and fascinating personality that I sincerely enjoyed each one. I'm tempted to go into more depth about some of the characters, but trust me when I say that if I did that, this review would be far too long, so I will not do that for this review for the sake of brevity. (You're welcome.)
The worldbuilding in this book is subtle in how it is told, but strong in the way in which it draws the reader in. There is no info-dumping (yes!), and there really isn't much of an exposition either. It took a little while to get into the world Steiger has created in this book simply due to being thrown right into the world, but her charismatic characters really help to lead the way kept me interested.
The best part of this book, in my opinion, is the sheer depth of history of the world and the character backgrounds that are presented. The attention to detail made this book so
real
and I could not draw myself away from it. Steiger has also proven herself to be incredibly deft at carefully writing in twists and elements that impressed me immensely.
I can already imagine that there are going to be two main camps for this book: those who love it because they enjoy slow character-building and a plot that is mainly focused on settings things up, and those that hate it because it is too slow-paced. I'm in the former category and I cannot recommend this one enough. Overall, I am giving
The Empire's Ghost
five stars!
*I received an ARC of The Empire Ghost courtesy of NetGalley and Thomas Dunne Books in exchange for an honest review.*
You might also like:
Red Sister by Mark Lawrence
Kings or Pawns by JJ Sherwood
Kushiel's Dart by Jacqueline Carey
The Queen of the Tearling by Erika Johansen