First Chapter Tuesday is hosted every Tuesday by Diane over at
Bibiophile by the Sea
. This is meme in which bloggers share the first chapter of a book that they are currently reading or thinking about reading soon. Join the fun by making your own post and linking up over at Diane's blog, or simple check it out to find more new books to read!
I hope everyone's week is going well! This week I've chosen to feature The Court of Broken Knives by Anna Smith Spark. My copy just recently arrived and I can't wait to dive into this one! I have heard nothing but raves about this one due to its unique writing style and its great addition to the grimdark subgenre of fantasy, I can't wait to get into this one!
The Court of Broken Knives by Anna Smith Spark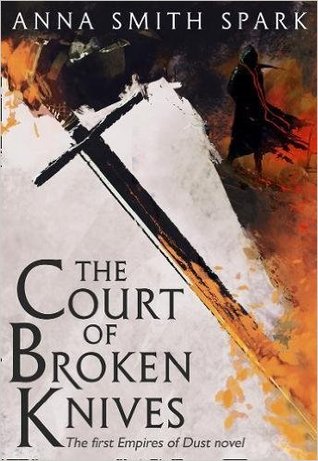 Chapter One
"Knives.
Knives everywhere. Coming down like rain.
Down to close work like that, men wrestling in the mud, jabbing at each other, too tired to care anymore. Just die and get it over with. Half of them fighting with their guts hanging out of their stomachs, stinking of shit, oozing pink and red and white. Half-dead men lying in the filth. Screaming. A whole lot of things screaming.
Impossible to tell who's who anymore. Mud and blood and shadows and that's it. Kill them! Kill them all! Keep killing until we're all dead. The knife jabs and twists and the man he's fighting falls sideways, all the breath going out of him with a sigh of relief. Another there behind. Gods, his arms ache. His head aches. Blood in his eyes. He twists the knife again and thrusts with a broken-off sword and that man too dies. Fire explodes somewhere over to the left. White as maggots. Silent as maggots. Then shrieks as men burn."
What do you think? Would you keep reading this?

(And feel free to join in and make your own post!)
If you're enticed by this chapter, be sure to check out the full synopsis on Goodreads!
*Excerpt taken from the novel itself; I do not claim to own any part of the excerpt.