This week's topic is: Freebie!
Since I missed this topic from a couple weeks ago, I though that I would just make it up today as my choice for the freebie! This ended up being a lot harder than I thought and I could only manage to come up with seven (based on books that I have recorded on Goodreads).
Death from The Book Thief by Markus Zusak
It's no secret that I did not enjoy
The Book Thief
at all, but I did really love the
concept
of having Death be a narrator, even if the execution didn't work for me.
Merlin from The Once and Future King by T.H. White
I still feel like it's blasphemy to not like this book, but I was just so bored throughout this book. Despite this, I loved the character of Merlin (I tend to love his character in general) and the scenes featuring Merlin were definitely the best ones.
The Darkling and Genya from Shadow and Bone by Leigh Bardugo
I wasn't a huge fan of this book for many reasons, but I was always intrigued by the Darkling and Genya. This was one of those cases where I found them more interesting than the protagonist. I'm working on re-reading this trilogy to see if my feelings have changed because I don't remember a whole, and so far I've only re-read Shadow and Bone (and my feelings didn't change :/ ). Hopefully the rest of the trilogy improves.
Fetch from The Queen of the Tearling by Erika Johannsen
Okay, so this is going purely off of what I
think
I remember because I remember very little from this book other than not liking it. Fetch is one of the only characters that I really remember and I do recall enjoying his character.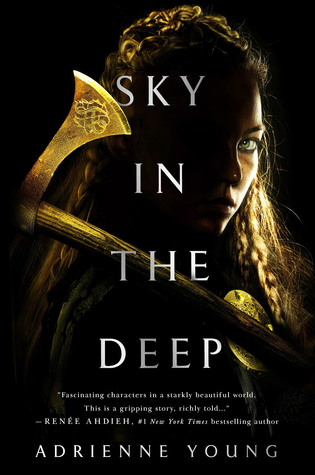 Clytemnestra fro
House of Name
by Colm Tóibín (but only in the beginning!)
The first portion of this book that features Clytemnestra's point of view had me really loving her character. She was so intriguing and had so many different aspects of her personality that shone through... and then somewhere everything shut off and she had nothing three-dimensional about her. Before that, though, I thought she was great!
Myra and Inge from Sky in the Deep by Adrienna Young
Okay, maybe it's too early to include this one, but I'm going to anyway. I wasn't a huge fan of this book (review will be up next Monday!), but I did really enjoy the characters of Myra and Inge for bringing a lot of life and interest to the story. I won't say more than that since the book isn't out.
Rook from An Enchantment of Ravens by Margaret Rogerson
For the record, I didn't
dislike
this book so much as I was just disappointed in it. I really liked the character of Rook, however, and felt that he had a strong history and storyline that would've been much more interesting to explore.
What characters have you liked in books you didn't like?