Waiting on Wednesday is a weekly meme hosted by Breaking the Spine that spotlights exciting upcoming releases that we can't wait to be released!
This week's upcoming book spotlight is:
Blackfish City by Sam J. Miller
Publication Date: April 17th, 2018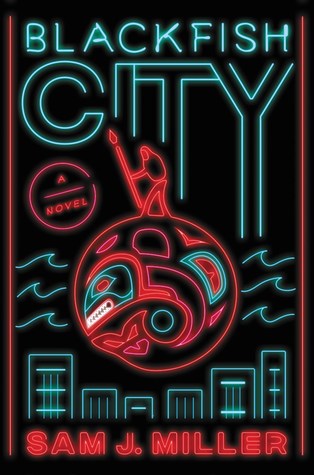 "
After the climate wars, a floating city is constructed in the Arctic Circle, a remarkable feat of mechanical and social engineering, complete with geothermal heating and sustainable energy. The city's denizens have become accustomed to a roughshod new way of living, however, the city is starting to fray along the edges—crime and corruption have set in, the contradictions of incredible wealth alongside direst poverty are spawning unrest, and a new disease called "the breaks" is ravaging the population.
When a strange new visitor arrives—a woman riding an orca, with a polar bear at her side—the city is entranced. The "orcamancer," as she's known, very subtly brings together four people—each living on the periphery—to stage unprecedented acts of resistance. By banding together to save their city before it crumbles under the weight of its own decay, they will learn shocking truths about themselves.
Blackfish City is a remarkably urgent—and ultimately very hopeful—novel about political corruption, organized crime, technology run amok, the consequences of climate change, gender identity, and the unifying power of human connection."
Everything about this premise just seems really unique to me and I can't wait to find out what it's all about. It has quite a relevance to it in many ways which really intrigues me, and I also just have to find out more about this "orcamancer."
and...
Evangeline of the Bayou by Jan Eldridge
Publication Date: May 1st, 2018
"
A standout middle grade debut with a sassy, memorable heroine and a charming Southern feel, perfect for fans of Kate DiCamillo and Natalie Lloyd.
Twelve-year-old haunt huntress apprentice Evangeline Clement spends her days and nights studying the ways of folk magic, honing her monster-hunting skills while pursuing local bayou banshees and Johnny revenants.
With her animal familiar sure to make itself known any day now, the only thing left to do is prove to the council that she has heart. Then she will finally be declared a true haunt huntress, worthy to follow in the footsteps of her long line of female ancestors.
But when Evangeline and her grandmother are called to New Orleans to resolve an unusual case, she uncovers a secret that will shake her to the soles of her silver-tipped alligator-skin boots.
Set in the evocative Louisiana bayou and the vibrant streets of New Orleans, Evangeline's is a tale of loyalty and determination, the powerful bonds of friendship and family, and the courage to trust your gut no matter how terrifying that might be."

This just sounds like a lot of fun. I am always up for a good book that features an animal familiar, and I love the idea of a New Orleans bayou setting--it's not something I really see very often (or at all)!


What do you think about this upcoming release? What are your anticipated upcoming releases?