This week's topic is: Halloween Freebie

Since today's topic was a Halloween freebie, I just decided to share some scary/horror/etc. books that I've seen over the years and would still really like to read! I have no specific plans on when I'll actually read these, but you know, I'd really like to read this one day because they all sound incredible. I don't read a lot of horror/scary books on a regular basis, but I'm never sure why because I almost always end up loving them--maybe I'll finally change that one day!
Gothic Tales by Elizabeth Gaskell: "Elizabeth Gaskell's chilling Gothic tales blend the real and the supernatural to eerie, compelling effect. 'Disappearances', inspired by local legends of mysterious vanishings, mixes gossip and fact; 'Lois the Witch', a novella based on an account of the Salem witch hunts, shows how sexual desire and jealousy lead to hysteria; while in 'The Old Nurse's Story' a mysterious child roams the freezing Northumberland moors. Whether darkly surreal, such as 'The Poor Clare', where an evil doppelgänger is formed by a woman's bitter curse, or mischievous like 'Curious, if True', a playful reworking of fairy tales, all the stories in this volume form a stark contrast to the social realism of Gaskell's novels, revealing a darker and more unsettling style of writing."
Little Girls by Ronald Malfi: "When Laurie was a little girl, she was forbidden to enter the room at the top of the stairs. It was one of many rules imposed by her cold, distant father. Now, in a final act of desperation, her father has exorcised his demons. But when Laurie returns to claim the estate with her husband and ten-year-old daughter, it's as if the past refuses to die. She feels it lurking in the broken moldings, sees it staring from an empty picture frame, hears it laughing in the moldy greenhouse deep in the woods…"
Thornhill by Pam Smy: "Parallel stories set in different times, one told in prose and one in pictures, converge as a girl unravels the mystery of the abandoned Thornhill Institute next door."
The Hunting Party by Lucy Foley: "All of them are friends. One of them is a killer.
During the languid days of the Christmas break, a group of thirtysomething friends from Oxford meet to welcome in the New Year together, a tradition they began as students ten years ago. For this vacation, they've chosen an idyllic and isolated estate in the Scottish Highlands—the perfect place to get away and unwind by themselves. They arrive on December 30th, just before a historic blizzard seals the lodge off from the outside world. Two days later, on New Year's Day, one of them is dead." (out 2019)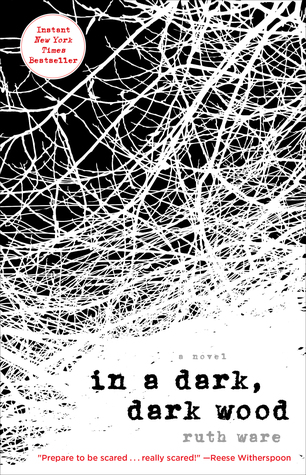 Dracul by Dacre Stoker & J.D. Barker: "The prequel to Dracula, inspired by notes and texts left behind by the author of the classic novel, Dracul is a supernatural thriller that reveals not only Dracula's true origins but Bram Stoker's--and the tale of the enigmatic woman who connects them.
It is 1868, and a twenty-one-year-old Bram Stoker waits in a desolate tower to face an indescribable evil. Armed only with crucifixes, holy water, and a rifle, he prays to survive a single night, the longest of his life. Desperate to record what he has witnessed, Bram scribbles down the events that led him here..."
The Visitors by Catherine Burns: "With the smart suspense of Emma Donoghue's Room and the atmospheric claustrophobia of Grey Gardens, Catherine Burns's debut novel explores the complex truths we are able to keep hidden from ourselves and the twisted realities that can lurk beneath even the most serene of surfaces."
In a Dark, Dark Wood by Ruth Ware: "Sometimes the only thing to fear…is yourself. When reclusive writer Leonora is invited to the English countryside for a weekend away, she reluctantly agrees to make the trip. But as the first night falls, revelations unfold among friends old and new, an unnerving memory shatters Leonora's reserve, and a haunting realization creeps in: the party is not alone in the woods."
The Silence by Tim Lebbon: "In the darkness of a vast cave system, cut off from the world for millennia, blind creatures hunt by sound. Then there is light, there are voices, and they feed... Swarming from their prison, they multiply and thrive. To scream, even to whisper, is to summon death. Deaf for many years, Ally knows how to live in silence. Now, it is her family's only chance of survival. To leave their home, to shun others, to find a remote haven where they can sit out the plague. But will it ever end? And what kind of world will be left?"
The Children's Home by Charles Lambert: "For fans of Shirley Jackson, Neil Gaiman, Roald Dahl, and Edward Gorey, a beguiling and disarming debut novel from an award-winning British author about a mysterious group of children who appear to a disfigured recluse and his country doctor,and the startling revelations their behavior evokes.
In a sprawling estate, willfully secluded, lives Morgan Fletcher, the disfigured heir to a fortune of mysterious origins. Morgan spends his days in quiet study, avoiding his reflection in mirrors and the lake at the end of his garden. One day, two children, Moira and David, appear. Morgan takes them in, giving them free reign of the mansion he shares with his housekeeper Engel. Then more children begin to show up..."
Hangsaman by Shirley Jackson: "Shirley Jackson's chilling second novel, based on her own experiences and an actual mysterious disappearance Seventeen-year-old Natalie Waite longs to escape home for college. Her father is a domineering and egotistical writer who keeps a tight rein on Natalie and her long-suffering mother. When Natalie finally does get away, however, college life doesn't bring the happiness she expected. Little by little, Natalie is no longer certain of anything—even where reality ends and her dark imaginings begin. Chilling and suspenseful, Hangsaman is loosely based on the real-life disappearance of a Bennington College sophomore in 1946."
The String Diaries by Stephen Lloyd Jones: "A family is hunted by a centuries-old monster: a man with a relentless obsession who can take on any identity."
The Butterfly Garden by Dot Hutchinson: "Near an isolated mansion lies a beautiful garden. In this garden grow luscious flowers, shady trees…and a collection of precious "butterflies"—young women who have been kidnapped and intricately tattooed to resemble their namesakes. Overseeing it all is the Gardener, a brutal, twisted man obsessed with capturing and preserving his lovely specimens."
Have you read any of these or do you want to read any of these? What spooky books do you want to read? Let me know!