Can't-Wait is a weekly meme hosted by Wishful Endings that spotlights exciting upcoming releases that we can't wait to be released! This meme is based off of Jill @ Breaking the Spine's Waiting on Wednesday meme.
This week's upcoming book spotlight is:
The Ruin of Kings by Jenny Lyons
Publication Date: February 5th, 2019
From Goodreads:
"
There are the old stories. And then there's what actually happens.
Kihrin is a bastard orphan who grew up on storybook tales of long-lost princes and grand quests. When he is claimed against his will as the long-lost son of a treasonous prince, Kihrin finds that being a long-lost prince isn't what the storybooks promised.
Far from living the dream, Kihrin finds himself practically a prisoner, at the mercy of his new family's power plays and ambitions. He also discovers that the storybooks have lied about a lot of other things things, too: dragons, demons, gods, prophecies, true love, and how the hero always wins.
Then again, maybe he's not the hero, for Kihrin isn't destined to save the empire.
He's destined to destroy it . . .
Uniting the worldbuilding of a Brandon Sanderson with the storytelling verve of a Patrick Rothfuss, debut author Jenn Lyons delivers an entirely new and captivating fantasy epic. Prepare to meet the genre's next star.
"
So I do have an ARC of this, but I'm still really excited for it to come out. I have a feeling this one is going to be awesome. There might be some familiar ideas, but I like the sound of where the seems to be heading. Plus, fingers crossed for dragons!
and...
Courting Darkness by Robin LaFevers
Publication Date: February 5th, 2019
HMH Books for Young Readers
512 pages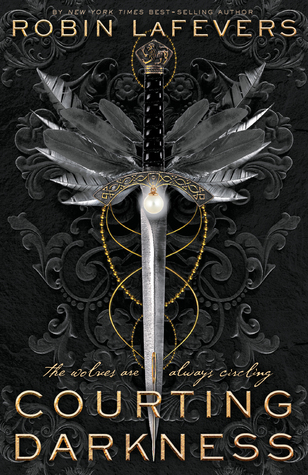 From Goodreads:

"
Death wasn't the end, it was only the beginning…
Sybella has always been the darkest of Death's daughters, trained at the convent of Saint Mortain to serve as his justice. But she has a new mission now. In a desperate bid to keep her two youngest sisters safe from the family that nearly destroyed them all, she agrees to accompany the duchess to France, where they quickly find themselves surrounded by enemies. Their one ray of hope is Sybella's fellow novitiates, disguised and hidden deep in the French court years ago by the convent—provided Sybella can find them.
Genevieve has been undercover for so many years, she struggles to remember who she is or what she's supposed to be fighting for. Her only solace is a hidden prisoner who appears all but forgotten by his guards. When tragedy strikes, she has no choice but to take matters into her own hands—even if it means ignoring the long awaited orders from the convent.
As Sybella and Gen's paths draw ever closer, the fate of everything they hold sacred rests on a knife's edge. Will they find each other in time, or will their worlds collide, destroying everything they care about?
"
Even if I wasn't already excited for this book for a million different reasons, the phrase "Sybella has always been the darkest of Death's daughters" would probably have me nearly auto-buying this book. I'm really looking forward to this one!
What do you think about these upcoming releases? What are your anticipated upcoming releases?