This week's topic is:
I remember doing this
same topic
for a Top Ten Tuesday post
a while back, but fortunately I've read a lot more books since that post and have many more books to choose from. I have to say that I was really surprised by how many books were under the 2,000 mark, as I assumed quite a few of these would be far over it. Were any of you as surprised as I was about some of the books you found (or the ones I've posted belo) under 2,000?
(And I can count, I promise, I just chose to feature eleven books because I'm indecisive.)
The Tower of Living and Dying by Anna Smith Spark
# of ratings: 161
"Marith Altrersyr – father-killer, dragonlord, leader of the blood-soaked Amrath Army – is keeping his promises. He is determined to become King of all Irlast and take back the seat of his ancestors.

Only Thalia, once high priestess of the Lord of Living and Dying, the holiest woman in the Empire, might stop Marith and his army's deadly march. But she is torn between two destinies – and if she was to return home, what would she fi nd there? A city on the brink of ruin: diseased, despairing, dying?
Crawling through a tunnel deep under the ruins of her city, Landra Relast vows vengeance. Her family has been burned, her home destroyed, and now Marith – once her betrothed – must die." Goodreads
The Confessions of Young Nero by Margaret George
"Built on the backs of those who fell before it, Julius Caesar's imperial dynasty is only as strong as the next person who seeks to control it. In the Roman Empire no one is safe from the sting of betrayal: man, woman or child.
With impeccable research and captivating prose, The Confessions of Young Nero is the story of a boy's ruthless ascension to the throne. Detailing his journey from innocent youth to infamous ruler, it is an epic tale of the lengths to which man will go in the ultimate quest for power and survival." Goodreads
The World of Tomorrow by Brendan Matthews
# of ratings: 783
"Three brothers caught up in a whirlwind week of love, blackmail, and betrayal culminating in an assassination plot, set in prewar New York.
From the smoky jazz joints of Harlem to the Plaza Hotel, from the garrets of artists in the Bowery to the shadowy warehouses of mobsters in Hell's Kitchen, Brendan Mathews brings prewar New York to vivid, pulsing life, while the sweeping and intricate storytelling of this remarkable debut reveals an America that blithely hoped it could avoid another catastrophic war and focus instead on the promise of the World's Fair: a peaceful, prosperous World of Tomorrow." Goodreads
Soul of the World by David Mealing
"It is a time of revolution. in the cities, food shortages stir citizens to riots against the crown. In the wilds, new magic threatens the dominance of the tribes. and on the battlefields, even the most brilliant commanders struggle in the shadow of total war. Three lines of magic must be mastered in order to usher in a new age, and three heroes must emerge.
Sarine is an artist on the streets of New Sarresant whose secret familiar helps her uncover bloodlust and madness where she expected only revolutionary fervor. Arak'Jur wields the power of beasts to keep his people safe, but his strength cannot protect them from war amongst themselves. Erris is a brilliant cavalry officer trying to defend New Sarresant from an enemy general armed with magic she barely understands. Each must learn the secrets of their power in time to guide their people through ruin. But a greater evil may be trying to stop them." Goodreads
Miranda and Caliban by Jacqueline Carey
# of ratings: 1,379
"We all know the tale of Prospero's quest for revenge, but what of Miranda? Or Caliban, the so-called savage Prospero chained to his will?
In this incredible retelling of the fantastical tale, Jacqueline Carey shows readers the other side of the coin—the dutiful and tenderhearted Miranda, who loves her father but is terribly lonely. And Caliban, the strange and feral boy Prospero has bewitched to serve him. The two find solace and companionship in each other as Prospero weaves his magic and dreams of revenge. Always under Prospero's jealous eye, Miranda and Caliban battle the dark, unknowable forces that bind them to the island even as the pangs of adolescence create a new awareness of each other and their doomed relationship." Goodreads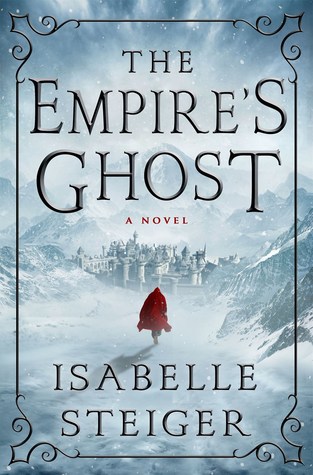 The Empire's Ghost by Isabelle Steiger
"The empire of Elesthene once spanned a continent, but its rise heralded the death of magic. It tore itself apart from within, leaving behind a patchwork of kingdoms struggling to rebuild. But when a new dictator, the ambitious and enigmatic Imperator Elgar, seizes power in the old capital and seeks to recreate the lost empire anew, the other kingdoms have little hope of stopping him. Prince Kelken of Reglay finds himself at odds with his father at his country's darkest hour; the marquise of Esthrades is unmatched in politics and strategy, but she sits at a staggering military disadvantage. And Issamira, the most powerful of the free countries, has shut itself off from the conflict, thrown into confusion by the disappearance of its crown prince and the ensuing struggle for succession.
Everything seems aligned in Elgar's favor, but when he presses a band of insignificant but skilled alley-dwellers into his service for a mission of the greatest secrecy, they find an unexpected opportunity to alter the balance of power in the war. Through their actions and those of the remaining royals, they may uncover not just a way to defeat Elgar, but also a deeper truth about their world's lost history."
Goodreads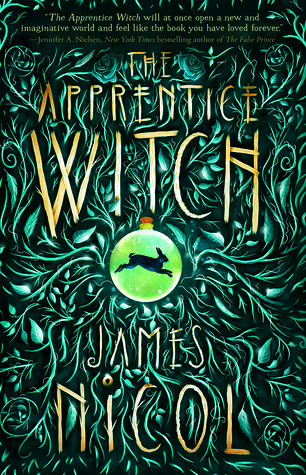 The Apprentice Witch by James Nichol
Arianwyn has flunked her witch's assessment: She's doomed. Declared an apprentice and sent to the town of Lull in disgrace, she may never become a real witch-- much to the glee of her arch-rival, Gimma.
But remote Lull is not as boring as it seems. Strange things are sighted in the woods, a dangerous infestation of hex creeps throughout the town, and a mysterious magical visitor arrives with his eye on her. Goodreads
Arabella of Mars by David Levine
"Ever since Newton witnessed a bubble rising from his bathtub, mankind has sought the stars. When William III of England commissioned Capt. William Kidd to command the first expedition to Mars in the late 1600s, they proved that space travel was both possible and profitable.
Now, one century later, a plantation in the flourishing British colony on Mars is home to Arabella Ashby. A tomboy who shares her father's deft hand with complex automatons. Being raised on the Martian frontier by her Martian nanny, Arabella is more a wild child than a proper young lady. Something her mother plans to remedy with a move to an exotic world Arabella has never seen: London, England.
Arabella soon finds herself trying to navigate an alien world until a dramatic change in her family's circumstances forces her to defy all conventions in order to return to Mars in order to save both her brother and the plantation. To do this, Arabella must pass as a boy on the Diana, a ship serving the Mars Trading Company with a mysterious Indian captain who is intrigued by her knack with automatons." Goodreads
The Queens of Innis Lear
# of ratings: 1,509
"The erratic decisions of a prophecy-obsessed king have drained Innis Lear of its wild magic, leaving behind a trail of barren crops and despondent subjects. Enemy nations circle the once-bountiful isle, sensing its growing vulnerability, hungry to control the ideal port for all trade routes.
The king's three daughters—battle-hungry Gaela, master manipulator Reagan, and restrained, starblessed Elia—know the realm's only chance of resurrection is to crown a new sovereign, proving a strong hand can resurrect magic and defend itself. But their father will not choose an heir until the longest night of the year, when prophecies align and a poison ritual can be enacted.
Refusing to leave their future in the hands of blind faith, the daughters of Innis Lear prepare for war—but regardless of who wins the crown, the shores of Innis will weep the blood of a house divided." Goodreads
"Balam is a sleepy town on the eastern coast of Atlua, surrounded by forest and sea. It's a village where nothing happens and everybody knows each other. But now, people are dying.
School is out for the spring, and schoolteacher Theodore Saen is ready to spend the next few months relaxing with his family. But when the town's resident white mage falls ill and several townspeople begin to show similar symptoms, they must call on a new mage. Aava has freshly graduated from the nearby mage academy when she is swiftly hired to deduce the cause of the unknown illness and craft a cure before the entire town is afflicted. Aiding her is an ex-mercenary named Ryckert who keeps to himself but has grown bored with retirement and is itching for a new investigation when a suspicious young man appears in the local pub the same night the sickness begins to spread.
"
Goodreads
"For over three thousand years, the Faeregine dynasty has ruled Impyrium. But the family's magic has been fading, and with it their power over the empire. Whether it's treachery from a rival house, the demon Lirlanders, or rebel forces, many believe the Faereginese are ripe to fall.
Hazel, the youngest member of the royal family, is happy to leave ruling to her sisters so that she can study her magic. But the Empress has other plans for her granddaughter, dark and dangerous plans to exploit Hazel's talents and rekindle the Faeregine mystique. Hob, a commoner from the outer realms, has been sent to the city to serve the Faeregines—and to spy on them
."
Goodreads
Have you read any of these books?