First Chapter Tuesday is hosted every Tuesday by
Vicki @ I'd Rather Be at the Beach
. This is meme in which bloggers share the first chapter of a book that they are currently reading or thinking about reading soon. Join the fun by making your own post and linking up over at Vicki's blog, or simply check it out to find more new books to read!
For this week's First Chapter Tuesday I thought I would share some intros from two books that I've just started reading!
Endurance: Shackleton's Incredible Voyage by Alfred Lansing
"The order to abandon ship was given at 5 P.M. For most of the men, however, no order was needed because by then everybody knew that the ship was done and that it was time to give up trying to save her. There was no show of fear or even apprehension. They had fought unceasingly for three days and they had lost. They accepted their defeat almost apathetically. They were simply too tired to care.

Frank Wild, the second-in-command, made his way forward along the buckling deck to the crew's quarters. There, two seamen, Walter How and William Bakewell, were lying in the lower bunks. Both were very nearly exhausted from almost three days at the pumps; yet they were unable to sleep because of the sounds the ship was making.

She was being crushed. Not all at once, but slowly, a little at a time. The pressure of ten million tons of ice was driving in against her sides. And dying as she was, she cried in agony. Her frames and planking, her immense timbers, many of them almost a foot thick, screamed as the killing pressure mounted. And when her timbers could no longer stand the strain, they broke with a report like artillery fire."
I picked this book up at a library sale a few months back...and then forgot I owned it. I recently read something that mentioned the
Endurance
wreck and subsequent survival story and it reminded me how interested I was in this book! I'm currently reading this one and am pretty fascinated by it so far.
Buy the book: Amazon | Book Depository | IndieBound
The Blade Itself by Joe Abercrombie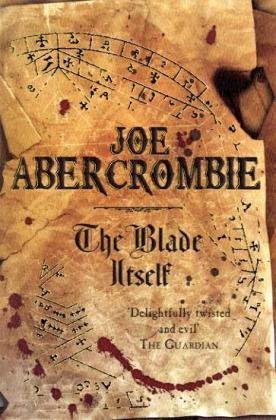 Excerpt:
"PART 1
"The blade itself incites to deeds of violence"
Homer
THE SURVIVORS
"The lapping of water in his ears. That was the first thing. The lapping of water, the rustling of trees, the odd click and twitter of a bird.
Logen open his eyes a crack. Light, blurry bright through leaves. This was death? Then why did it hurt so much? His whole left side was throbbing. He tried to take a proper breath, choked, coughed up water, spat out mud. He groaned, flopped over onto this hands and knees, dragged himself up out of the river, gasping through clenched teeth, rolled onto his back in the moss and slime and rotten sticks at the water's edge.
He lay there for a moment, staring up at the grey sky beyond the black branches, breath wheezing in his raw throat.
"I am still alive," he croaked to himself. Still alive, in spite of the best efforts of nature, SHanka, men and beassts. Soaking wet and flat on his back, he started to chuckle. Reedy, gurgling laughter. Say one thing for Logen Ninefingers, say he's a survivor."
Goodreads
I've been meaning to read this book for years now and I'm still somehow surprised that I haven't read it. This is often treated as a classic in many fantasy circles, especially in the realm of grimdark, and I am excited to finally be reading it. I'm only ~70 pages in so far, but I'm already hooked. And fun fact! I actually won my very own copy of this book as a result of last year's participating in the r/fantasy book bingo challenge!
Buy the book: Amazon | Book Depository | IndieBound
What do you think? Would you keep reading these books?

(And feel free to join in and make your own post!)
*Excerpts are taken from the novel itself; I do not claim to own any part of the excerpt.