Part two of my summer reading recommendations series (
find part one here
!) is all about comic, graphic novels, and manga! Whether you're traveling, going out, or just trying ot make it through a hot day, you can't go wrong with picking up a visual-based form of media to keep you occupied. I've been meaning to expand my reading of graphic novels and the like, but there are a handful of ones I've read that I've loved, so without further ado, let's just jump into the recommendations!
The Sandman by Neil Gaiman
The Sandman is the universally lauded masterwork following Morpheus, Lord of the Dreaming--a vast hallucinatory landscape housing all the dreams of any and everyone who's ever existed. Regardless of cultures or historical eras, all dreamers visit Morpheus' realm--be they gods, demons, muses, mythical creatures, or simply humans who teach Morpheus some surprising lessons.
Upon his escape from an embarrassing captivity at the hands of a mere mortal, Morpheus finds himself at a crossroads, forced to deal with the enormous changes within both himself and his realm. His journey to find his place in a world that's drastically changed takes him through mythical worlds to retrieve his old heirlooms, the back roads of America for a twisted reunion, and even Hell itself--to receive the dubious honor of picking the next Devil. But he'll learn his greatest lessons at the hands of his own family, the Endless, who--like him--are walking embodiments of the most influential aspects of existence..
I had to include the Sandman series because, well, it's no secret that it's my favorite at this point and I think it would be an awesome series to tackle during summer!
Amazon
|
Book Depository
|
IndieBound
Whiteout by Greg Rucka, Steve Lieber
You can't get any further down than the bottom of the world - Antarctica. Cold, desolate, nothing but ice and snow for miles and miles. Carrie Stetko is a U.S. Marshal, and she's made The Ice her home. In its vastness, she has found a place where she can forget her troubled past and feel at peace... Until someone commits a murder in her jurisdiction and that peace is shattered. The murderer is one of five men scattered across the continent, and he has more reason to hide than just the slaying. Several ice samples were taken from the area around the body, and the depth of the drilling signifies something particular was removed. Enter Lily Sharpe, who wants to know what was so important another man's life had to be taken for it. But are either of the women prepared for the secrets and betrayals at the core of the situation?
I love any story set in the Arctic and this graphic novel did not let me down at all. If you like some mystery, this is would be a great pick!
Amazon
|
Book Depository
|
IndieBound
Anne Bonnie by Tim Yates
Pirates, magic and adventure collide in this action-packed all-ages series from Blue Juice Comics and Tim Yates. The Great Sea is still in chaos after the mysterious disappearance of the Pirate Queen Anne Bonnie, and danger lurks over every crest. Join Ariana aboard a stolen magical pirate ship on her quest to become the world's greatest pirate. Along the way she'll make new friends - and enemies - and learn what being a pirate really means.
"Pirate, magic, and adventure"--what more could you want? Anne Bonnie is a such a fun comic that would also be a great pick for younger readers as well. I've only read the first few of this series, but I definitely plan to pick up more in the future.
Amazon
|
Book Depository
|
IndieBound
Lone Wolf and Cub, Vol. 1 by Kazuo Koike, Goseki Kojima
Shogunate executioner Ogami Itto is framed as a traitor by the agents from a rival clan. With his wife murdered and with an infant son to protect, Ogami chooses the path of the ronin, the masterless samurai. The Lone Wolf and Cub wander feudal Japan, Ogami's sword for hire, but all roads will lead them to a single destination: vengeance.
I haven't had a chance to read too far into this series yet, but it has to be one of the most interesting mangas. It's incredibly complex and deep with incredible characters and a fascinating historical setting. If you have any interest in following the story of a samurai assassin and his son set in a feudal-era Japan, you have to pick this one for your summer reading (or, well, any season).
Amazon
|
Book Depository
|
IndieBound
Fables, Vol. 1: Legends in Exile by Bill Willingham
When a savage creature known only as the Adversary conquered the fabled lands of legends and fairy tales, all of the infamous inhabitants of folklore were forced into exile. Disguised among the normal citizens of modern-day New York, these magical characters have created their own peaceful and secret society within an exclusive luxury apartment building called Fabletown. But when Snow White's party-girl sister, Rose Red, is apparently murdered, it is up to Fabletown's sheriff, a reformed and pardoned Big Bad Wolf (Bigby Wolf), to determine if the killer is Bluebeard, Rose's ex-lover and notorious wife killer, or Jack, her current live-in boyfriend and former beanstalk-climber.
Fairy tale characters are thrown into the modern-day world and it's pretty much as great as it sounds. This is imaginative, expansive, and is sure to keep you engaged with its clever ideas.
Amazon
|
Book Depository
|
IndieBound
Ody-C
by Matt Fraction, Christian Ward
An eye-searing, mind-bending, gender-shattering epic science fiction retelling of Homer's Odyssey starting with the end of a great war in the stars and the beginning of a very long journey home for Odyssia and her crew of warriors. The journey to Ithicaa begins HERE, by Matt Fraction (Sex Criminals) and Christian Ward (Infinite Vacation, Olympus).
If you want to keep your visual reading materials "classic," then why not pick up something with origins by on The Odyssey? This is a weird take on the classic story and I'll be honest, it's pretty crazy and a little confusing at times, but it's also pretty fun and has some really great illustrations.
Amazon
|
Book Depository
|
IndieBound
Finder by Carla Speed McNeil
Lose yourself in a world beyond your wildest dreams…
Since 1996, Finder has set the bar for science-fiction storytelling, with a lush, intricate world and compelling characters. Now, Dark Horse is proud to present the first four story arcs of Carla Speed McNeil's groundbreaking series in a single, affordably priced volume! Follow enigmatic hero Jaeger through a "glorious, catholic pileup of high-tech SF, fannish fantasy, and street-level culture clash" (Village Voice), and discover the lush world and compelling characters that have carved Finder a permanent place in the pantheon of independent comics.
This is another one that's pretty cemented in the "weird" category, but it's also a bit of a classic and for good reason. There weren't a lot of good summaries for this readilt available online, but it would be very worthwhile of your time to check out.
Amazon
|
Book Depository
|
IndieBound
The Promised Neverland
by Kaiu Shirai, Psouka Demizu
Life at Grace Field House has been good for Emma and her fellow orphans. While the daily studying and exams they have to take are tough, their loving caretaker provides them with delicious foods and plenty of playtime. But perhaps not everything is as it seems…
Emma, Norman and Ray are the brightest kids at the Grace Field House orphanage. And under the care of the woman they refer to as "Mom," all the kids have enjoyed a comfortable life. Good food, clean clothes and the perfect environment to learn—what more could an orphan ask for? One day, though, Emma and Norman uncover the dark truth of the outside world they are forbidden from seeing.
I read this earlier this year and had such a blast. It's dark, full of surprises, and definitely a bit creepy. It's easy to fly through this one!
Amazon
|
Book Depository
|
IndieBound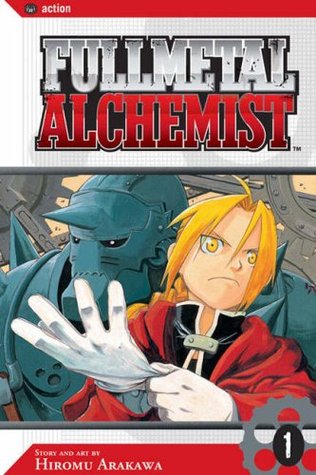 Fullmetal Alchemist by
Alchemy: the mystical power to alter the natural world; something between magic, art and science. When two brothers, Edward and Alphonse Elric, dabbled in this power to grant their dearest wish, one of them lost an arm and a leg...and the other became nothing but a soul locked into a body of living steel. Now Edward is an agent of the government, a slave of the military-alchemical complex, using his unique powers to obey orders...even to kill. Except his powers aren't unique. The world has been ravaged by the abuse of alchemy. And in pursuit of the ultimate alchemical treasure, the Philosopher's Stone, their enemies are even more ruthless than they are...
Most people are probably aware of Fullmetal Alchemist or have at least seen the manga, but I still thought it'd be a great pick for some summer reading! It's adventurous and has some truly memorable and compelling characters.
Amazon
|
Book Depository
|
IndieBound