Paper and Fire will be released Tuesday, July 5th!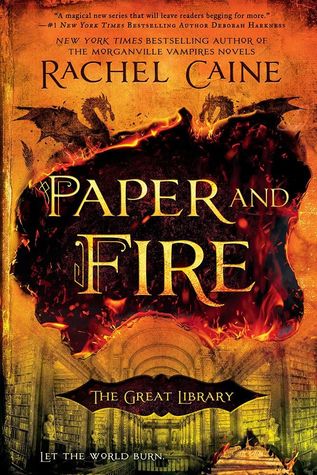 Paper and Fire
by Rachel Caine. NAL, 2016. 368 pages. Ebook.
**I received an ARC of Paper and Fire courtesy of NetGalley and NAL publishers in exchange for an honest review**
Take the intensity of
Ink and Bone,
amp it up about ten times, and you have
Paper and Fire.
This second installment to The Great Library series is even stronger than
Ink and Bone
and adds even more depth and intrigue to this unique setting.
Initially, I was worried that I wouldn't understand what was going on since it feels like I read
Ink and Bone
so long ago, but fortunately I was able to fall right back into the world with great ease.World-building within the world of
Paper and Fire
is incredibly detailed and somehow even more thrilling than I remembered from
Ink and Bone
.
The world itself is so intricate and unique - what book lover wouldn't love a premise in which the Library of Alexandria still exists? But then there's that flipside where, oh yeah, no one is allowed to read a majority of those books. No one is even allowed to own physical books for that matter - everything is all on a tablet device with a somewhat limited collection - you know, limited to what the government deems appropriate.
The first thing that stands out to me about
Paper and Fire
is how much I love learning about the various positions and roles that people can take within this society, such as the High Garda and working in the Iron Tower. These roles tell so much about the strict world Jess lives in and to what extent the Library will go to in order to make sure their rules are followed.
Where
Paper and Fire
fell flat for me, however, was the lack of connection I felt towards some of the main characters and story itself. I'm not sure how this is possible, but I feel like I'm losing my grip on Jess. He has a very distinct, sharp character, but he's not exactly interesting - or overly likable, to be honest. There is often so much else going on with other characters that it almost appears as if he is left behind. He's become a rather bland, emotionless character that, quite frankly, I didn't find myself caring much about. However, one thing I did notice and appreciate about Jess was how much he seemed to mature from the first book, and even throughout
Paper and Fire
. He is no longer as rash and naive, but instead knows how to handle himself and take things more seriously.
I'm much more interested in some of the secondary characters, such as Kahlia, who is quiet, intelligent, and fierce, and Glain, a hard-nosed leader who takes everything she does very seriously. Santi and Wolfe are also still fascinating characters that bring so much depth to every scene they are in; they have such conflicting ideas about what they should sometimes do, but every argument or uncertainty is a direct result of the deep love they have for one another.
The weirdest aspect of reading
Paper and Fire
was that I never felt overly excited while reading this book, but I somehow couldn't stop reading it. I would put it down and think, 'hm, I guess I'll come back to it sometime later,' with very little emotion, but somehow I always seemed to pick it right back up and be unable to put it down. Caine has a way of using her words just right to keep you ever so slightly hooked at all times, regardless of your feelings about the book. Her prose is smooth and flows effortlessly, which leads to a thrilling reading experience.
Overall, I am giving
Paper and Fire
three stars, because despite the writing talents of Caine, the characters and overall story fell a bit flat and left me rather disappointed with this series.
You might also like:
An Ember in the Ashes by Sabaa Tahir
A Court of Thorns and Roses by Sarah J. Maas
Throne of Glass by Sarah J. Maas