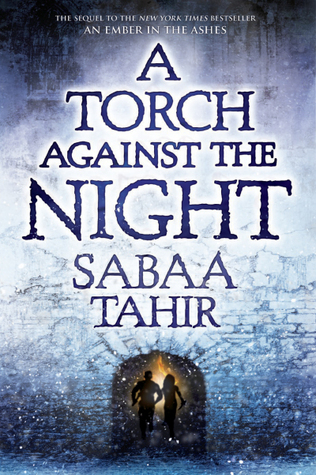 A Torch Against the Night by Sabaa Tahir. Razorbill, 2016. Hardcover.
Sabaa Tahir blew into the book world last year with her debut novel,
An Ember in the Ashes
, leaving all of us with extremely high hopes for the sequel. I was left with so many unanswered questions and was so engrossed with the characters that I knew I would be anxiously awaiting the sequel.
A Torch Against the Night
wasn't exactly what I had hoped for, but it has still proved to be a strong, steady sequel. I didn't enjoy it
to the same extent that I enjoyed
An Ember in the Ashes
, but it was still a solid, highly entertaining read - and it had a pretty hard debut to lie up to.
All of our favorite - and not-so-favorite - characters are back, and they are certainly ready for action. Laia, for one, seems to have come
such
a long way from her initial starting point as a young girl who watched her family get slaughtered before her eyes and her brother get taken away to prison. She is still just as determined to rescue her brother as before, and that is essentially what drives her every motivation in
A Torch Against the Night
. Laia is not my favorite character, and I think it's because there isn't too much that really sets her apart from other female characters. She's certainly a bold character, don't get me wrong, but she's also rather bland as far as female protagonists are concerned - I wanted a bit more personality or unique qualities that could be attributed to her. I am, however, intrigued by some of the things she discovers she can do, and I would like to know how that will play into this story more.
Elias really gets the short end of the stick in this book with all the shit he has to put up with, but boy is that guy a fighter. I won't be going into details (no spoilers!), but suffice to say that Elias' character is really wrung out and stripped to the bare bones as Tahir crafts an incredibly strong, incredibly well-developed character.
I think the problem of
A Torch Against the Night
lies in the fast pacing of this book. There seemed to be some major action or event right after one is finished - there's no place to rest. One major high-intensity moment would finish, so I'd breath a little and be ready for a little plot building, character dialogue, etc., but that didn't happen, and instead we would be suddenly thrust right back into high-intensity. It just felt a bit rushed at times.
Despite the somewhat fast pacing, it was still a great read. High-intensity generally leads to being unable to put down a book (though sometimes I just get a bit tired of reading heavy action scenes for a while), which thus leads to a well-moving and good book.
What this book doesn't lack is bluntness, violence, and a lack of fear. There are plenty of casualties along the way, including those we both care and don't care about, and the callous violence that was present in An Ember in the Ashes is just as present - if not moreso - here in
A Torch Against the Night
. While reading, I felt that I kept catching glimpses of just how strong a Tahir is, and how far she is willing to go with her characters in order to create a startling and substantial book. Tahir is a wonderfully talented writer, which easily shows by how engrossed I was and by how much I enjoyed this book. Overall, I will be giving
A Torch Against the Night
four stars.
You might also like:
An Ember in the Ashes by Sabaa Tahir
And I Darken by Kiersten White
Throne of Glass by Sarah J. Maas
A Court of Mist and Fury by Sarah J. Maas