Despite the fact that I live in an area that hardly takes notice of the different seasons (besides summer, when it is beyond scorching hot), there is still a noticeable cooling and bite in the chilly air. I love reading books that match the current weather and season, so I've compiled a list of books that feature cold weather or snowy settings. They may not be holiday-oriented, but they are relatable in regards to winter weather!
(I'm also planning on compiling another one of these lists for the winter break/vacation reads - such as those big epic fantasy novels and classics we've all been meaning to read, and the like - so be sure to check back for that. :))
Anna and the Swallow Man by Gavriel Savit
: This book centers on the story of a young girl who is left alone one during the Nazi regime and happens to meet a strange man she calls the 'Swallow Man.' Together, the two traverse the harsh and snowy country.
The Golden Compass by Philip Pullman: Traveling to the far North automatically sounds like it's going to be cold - and it is! Cold weather, polar bears, and the perfect winter escape.
Into Thin Air by Jon Krakauer: This book is about a man climbing Mt. Everest, so you can be pretty sure that it's going to be really damn cold. And it is. (And it's also terrifying, but that's another story...)



Hag-Seed by Margaret Atwood:
This book isn't specifically winter-y per-say, but I distinctly remember the main character clomping a bit in snow and dealing with gloves.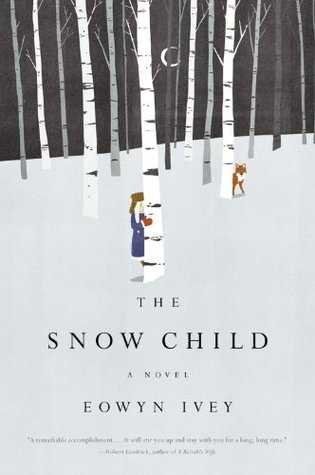 The Lion, The Witch, and the Wardrobe by C. S. Lewis: To me, nothing says 'winter' quite as much as this classic from C. S. Lewis. This book combines delightful magical elements, a snowy setting, and a variety of fantastical creatures to create the perfect snow day read.
The Snow Child by Eowyn Ivey: This book is heartbreaking, but it is set in the cold, snowy location of Alaska where a couple creates a child out of snow.
The Left Hand of Darkness by Ursula K. Le Guin: This takes a harsher viewpoint as far as bitter cold weather is concerned, but it certainly fits the bill. There is ice and snow everywhere and the setting itself is really just the most bleak winter setting you can imagine. (But I promise the book is a lot more inviting than the setting!)

and obviously... A Christmas Carol by Charles Dickens
(I am so in love with this Puffin edition cover!)
What are some of your favorite books with cold, wintry settings?