Today's Top Ten Tuesday is all about our top underrated reads from 2016! I have chosen to feature a few published in 2016, but also many backlist books because I read a lot of those. These are all books that I really enjoyed or felt deserved more praise and recognition than they actually got.
1. The Last Wish by Andrzej Sapkowski
"Geralt was always going to stand out, with his white hair and piercing eyes, his cynicism and lack of respect for authority ... but he is far more than a striking-looking man. He's a witcher, with powers that make him a brilliant fighter and a merciless assassin - his targets are the vile fiends that ravage the land.
As guardian of the innocent, Geralt meets incestuous kings with undead daughters, vengeful djinns, shrieking harpies, lovelorn vampires and despondent ghouls. Many are pernicious, some are merely, and none are quite as they appear."
2. Pit Bull: The Battle Over an American Icon
"The hugely illuminating story of how a popular breed of dog became the most demonized and supposedly the most dangerous of dogs—and what role humans have played in the transformation.

Her search for answers takes her from nineteenth-century New York City dogfighting pits—the cruelty of which drew the attention of the recently formed ASPCA—to early twentieth‑century movie sets, where pit bulls cavorted with Fatty Arbuckle and Buster Keaton; from the battlefields of Gettysburg and the Marne, where pit bulls earned presidential recognition, to desolate urban neighborhoods where the dogs were loved, prized—and sometimes brutalized.

Whether through love or fear, hatred or devotion, humans are bound to the history of the pit bull. With unfailing thoughtfulness, compassion, and a firm grasp of scientific fact, Dickey offers us a clear-eyed portrait of this extraordinary breed, and an insightful view of Americans' relationship with their dogs."
3. Impyrium by Henry H. Neff
"In the first book of Henry Neff's new high-stakes middle grade fantasy series, two unlikely allies—the Faeregine princess Hazel and the servant boy Hob—confront a conspiracy that will shake the world of Impyrium to its core.
For over three thousand years, the Faeregine dynasty has ruled Impyrium. But the family's magic has been fading, and with it their power over the empire. Whether it's treachery from a rival house, the demon Lirlanders, or rebel forces, many believe the Faereginese are ripe to fall.
Hazel, the youngest member of the royal family, is happy to leave ruling to her sisters so that she can study her magic. But the Empress has other plans for her granddaughter, dark and dangerous plans to exploit Hazel's talents and rekindle the Faeregine mystique. Hob, a commoner from the outer realms, has been sent to the city to serve the Faeregines—and to spy on them.
One wants to protect the dynasty. The other wants to destroy it. But when Hazel and Hob form an improbable friendship, their bond may save the realm as they know it…or end it for good."
4. Arabella of Mars by David D. Levine
"
Ever since Newton witnessed a bubble rising from his bathtub, mankind has sought the stars. When William III of England commissioned Capt. William Kidd to command the first expedition to Mars in the late 1600s, they proved that space travel was both possible and profitable.
Now, one century later, a plantation in the flourishing British colony on Mars is home to Arabella Ashby. A tomboy who shares her father's deft hand with complex automatons. Being raised on the Martian frontier by her Martian nanny, Arabella is more a wild child than a proper young lady. Something her mother plans to remedy with a move to an exotic world Arabella has never seen: London, England.
Arabella soon finds herself trying to navigate an alien world until a dramatic change in her family's circumstances forces her to defy all conventions in order to return to Mars in order to save both her brother and the plantation. To do this, Arabella must pass as a boy on the Diana, a ship serving the Mars Trading Company with a mysterious Indian captain who is intrigued by her knack with automatons. Arabella must weather the naval war between Britain and France, learning how to sail, and a mutinous crew if she hopes to save her brother from certain death."
5. Over the Underworld by Adam Shaughnessy
It's been a year since friends ABE and Pru joined Mister Fox's Fantasy Investigation Bureau--otherwise known as the Unbelievable FIB--to save their hometown from an invasion of Viking gods and giants. Life has been incredibly ordinary ever since. But that's all about to change when the Norse Allfather, Odin, appears with terrible news: Baldur, his favorite son, has been murdered. It's the first step in a fated chain of events that leads to Ragnarok--the end of the world.
6. The Book of Strange New Things by Michel Faber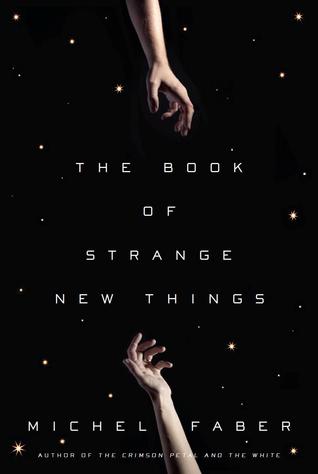 "It begins with Peter, a devoted man of faith, as he is called to the mission of a lifetime, one that takes him galaxies away from his wife, Bea. Peter becomes immersed in the mysteries of an astonishing new environment, overseen by an enigmatic corporation known only as USIC. His work introduces him to a seemingly friendly native population struggling with a dangerous illness and hungry for Peter's teachings—his Bible is their "book of strange new things." But Peter is rattled when Bea's letters from home become increasingly desperate: typhoons and earthquakes are devastating whole countries, and governments are crumbling. Bea's faith, once the guiding light of their lives, begins to falter.
Suddenly, a separation measured by an otherworldly distance, and defined both by one newly discovered world and another in a state of collapse, is threatened by an ever-widening gulf that is much less quantifiable. While Peter is reconciling the needs of his congregation with the desires of his strange employer, Bea is struggling for survival. Their trials lay bare a profound meditation on faith, love tested beyond endurance, and our responsibility to those closest to us."
7. The River of Doubt: Theodore Roosevelt's Darkest Journey by Candice Millard
"
The River of Doubt—it is a black, uncharted tributary of the Amazon that snakes through one of the most treacherous jungles in the world. Indians armed with poison-tipped arrows haunt its shadows; piranhas glide through its waters; boulder-strewn rapids turn the river into a roiling cauldron.
After his humiliating election defeat in 1912, Roosevelt set his sights on the most punishing physical challenge he could find, the first descent of an unmapped, rapids-choked tributary of the Amazon. Together with his son Kermit and Brazil's most famous explorer, Cândido Mariano da Silva Rondon, Roosevelt accomplished a feat so great that many at the time refused to believe it. In the process, he changed the map of the western hemisphere forever.
Along the way, Roosevelt and his men faced an unbelievable series of hardships, losing their canoes and supplies to punishing whitewater rapids, and enduring starvation, Indian attack, disease, drowning, and a murder within their own ranks. Three men died, and Roosevelt was brought to the brink of suicide.
The River of Doubt
brings alive these extraordinary events in a powerful nonfiction narrative thriller that happens to feature one of the most famous Americans who ever lived.
From the soaring beauty of the Amazon rain forest to the darkest night of Theodore Roosevelt's life, here is Candice Millard's dazzling debut."
8. Sunborn Rising: Beneath the Fall by Aaron Safronoff
"
"Sunborn Rising: Beneath the Fall" is a lavishly illustrated, all-ages fantasy book with detailed world-building. Follow Barra, a young Listlespur, and her two friends, Tory and Plicks, as they save their home, the Great Trees of Cerulean, from a blight that is darkening their world. They must learn more about their planet and adventure through it to save it."
9. The Outside Lands by Hannah Kohler
"San Francisco, 1968: Jeannie and Kip are lost and half-orphaned, their mother dead under mysterious circumstances, and their father - a decorated WWII veteran - consumed by guilt and losing sight of his teenage children. Kip, a dreamer and swaggerer prone to small-time trouble, enlists to fight in Vietnam; Jeannie finds a seemingly safe haven in early marriage and motherhood. But when Kip is accused of a terrible military crime, Jeannie is seduced - sexually, emotionally, politically - into joining an ambiguous anti-war organization. As Jeannie attempts to save her brother, her search for the truth leads her into two relationships, with a troubled young woman, and a grievously-wounded veteran, that might threaten her marriage, her child, and perhaps her life."
10. Kings or Pawns by JJ Sherwood
"
The first book in JJ Sherwood's Steps of Power epic fantasy series. The Kings, Book I: Kings or Pawns is a political intrigue that spirals into an action and adventure series as the final events unfold.
8,994 P.E.—The elven city of Elvorium has become corrupted to the core by politics. With his father dead and the Royal Schism at his back, Prince Hairem ascends the throne as king of the elven world on Sevrigel. Young and bold, Hairem is determined to undo the council's power, but the brutal murders by an assassin loosed within the city threaten to undermine the king's ambitions.
As corruption and death threaten to tear Elvorium apart from within, the warlord Saebellus threatens the city from without, laying siege to Sevrigel's eastern capital. With the elven world crumbling around him, Hairem finds himself in a dangerous political balance between peace and all out war."
**All summaries are taken from the book's Goodreads page.
What are some of your underrated reads? Have you read any of these? Leave your throughts in the comments!