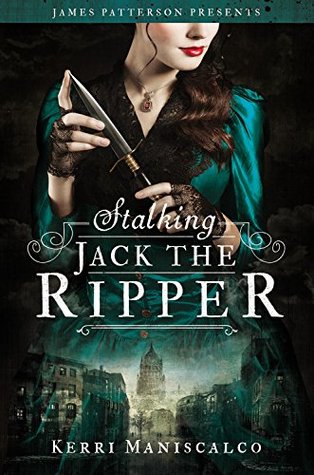 Stalking Jack the Ripper by Kerri Maniscalco. Jimmy Patterson, 2016. Hardcover. 326 pages.
Even though I had heard numerous positive things about this book, I will admit that I was ever so slightly skeptical of this book because of it being from James Pattersons' new imprint, Jimmy Patterson. I know that's probably wrong of me, but I'm really not a big fan of James Patterson as a person, so I wasn't sure if this would be quite what I was hoping. My preconceptions, however, were fortunately proven wrong, and I enjoyed this book
a lot
.
Stalking Jack the Ripper
is horribly disturbing and gory, so if gruesome crime scenes and vivid descriptions of autopsies and the like are not up your alley, I would recommend you maybe pass this by. If you are okay with that, or you want to give it a try, then
Stalking Jack the Ripper
is perfect.
Audrey Rose is the female narrator that we have all been waiting for. She is extraordinary witty, bold, and absolutely willing to call men out on their sexist, idiotic behaviours toward women and the ways in which they believe women should be treated. She is not about to let men treat her as if she is inferior or weaker than them, and I loved her attitude. However, I was also somewhat annoyed by her naivete - you know, like wandering around at night when there have been horrific murders, assuming you'll be safe. Really? And sometimes the feminism seem a little
too
'hit-you-over-the-head-with-it,' but I guess I can't particularly complain about a strong female character.
I also really grew to love Thomas. At first, I wasn't a huge fan, as I felt like he was similar to every other young adult boy in his snarky manner, but I eventually discovered that actually was different and had quite a bit more to offer. Him and Audrey Rose make a great team, and I thought they worked together throughout the book really well.
I felt that the character development of each individual character was written exceptionally well, and I enjoyed watched Audrey Rose develop as the story progressed. The plot pacing, however, did seem to slow here and there throughout the middle of the story, but fortunately Maniscalsco is entertaining enough to keep me entertained, even through the dry spells. I also found the ending slightly predictable, which was a bit disappointing, but that doesn't detract from the telling of this story.
Something that stood out to me in a somewhat negative way was the dialogue. In the beginning of the story, at least, I felt as if the dialogue was a bit too... modern. The characters seemed to talk as teenagers talk today, which really unsettled me and made it difficult for me to adapt to the book and its time period. However, I think that as the book went on, this problem seemed to go away, so either I got used to the dialogue, or there were legitimate shifts.
Overall, I really enjoyed this book. It had its moments that seemed overly dramatics or contrived, but in the end, I can't help but say I loved every second of this book.
The Other Einstein by Marie Benedict
A School for Unusual Girls by Kathleen Baldwin
A Shadow Bright and Burning by Jessica Cluess
The Madman's Daughter by Megan Shepherd
The Wrath and the Dawn by Renee Ahdieh