As most of you know, February is Black History Month! This month is dedicated to sharing African American history and raising awareness of the vast contributions African Americans have made to our country. To honor this month, I decided to compile a list of a few (out of
many
) wonderful books that celebrate African Americans and encourage everyone to take a minute to learn more. I have included books for a wide variety of ages, so hopefully there should be a little something for everyone.
Martin's Big Words: The Life of Dr. Martin Luther King, Jr. by Doreen Rappaport
"

Acclaimed author Doreen Rappaport and Coretta Scott King Award winner Bryan Collier, who previously collaborated on

Freedom River

, have pooled their talents yet again in a stunning tribute to civil rights activist Dr. Martin Luther King Jr. An extraordinary picture-book biography,

Martin's Big Words

consists of Rappaport's own words interwoven with quotes from Dr. King...all powerfully brought to life by Collier's striking, glorious art. "
Harriet Tubman: The Road to Freedom by Catherine Clinton
"

Celebrated for her courageous exploits as a conductor on the Underground Railroad, Harriet Tubman has entered history as one of nineteenth-century America's most enduring and important figures. But just who was this remarkable woman? To John Brown, leader of the Harpers Ferry slave uprising, she was General Tubman. For the many slaves she led north to freedom, she was Moses. To the slaveholders who sought her capture, she was a thief and a trickster. To abolitionists, she was a prophet. Now, in a biography widely praised for its impeccable research and its compelling narrative, Harriet Tubman is revealed for the first time as a singular and complex character, a woman who defied simple categorization.

"
Sonata Mulattica by Rita Dove
"In a book-length lyric narrative inspired by history and imagination, a much celebrated poet re-creates the life of a nineteenth-century virtuoso violinist.
The son of a white woman and an African Prince, George Polgreen Bridgetower (1780-1860) travels to Vienna to meet a bad-boy genius Ludwig van Beethoven. The great composer's subsequent sonata is originally dedicated to the young mulatto, but George, exuberant with acclaim, offends Beethoven over a woman. From this crucial encounter evolves a grandiose yet melancholy poetic tale."
"
Henry Brown doesn't know how old he is. Nobody keeps records of slaves' birthdays. All the time he dreams about freedom, but that dream seems farther away than ever when he is torn from his family and put to work in a warehouse. Henry grows up and marries, but he is again devastated when his family is sold at the slave market. Then one day, as he lifts a crate at the warehouse, he knows exactly what he must do: He will mail himself to the North. After an arduous journey in the crate, Henry finally has a birthday -- his first day of freedom."

Dreams from My Father by Barack Obama
"
Nine years before the Senate campaign that made him one of the most influential and compelling voices in American politics, Barack Obama published this lyrical, unsentimental, and powerfully affecting memoir, which became a #1 New York Times bestseller when it was reissued in 2004. Dreams from My Father tells the story of Obama's struggle to understand the forces that shaped him as the son of a black African father and white American mother—a struggle that takes him from the American heartland to the ancestral home of his great-aunt in the tiny African village of Alego.
"
The Autobiography of Malcolm X by Alex Haley
"
Through a life of passion and struggle, Malcolm X became one of the most influential figures of the 20th Century. In this riveting account, he tells of his journey from a prison cell to Mecca, describing his transition from hoodlum to Muslim minister. Here, the man who called himself "the angriest Black man in America" relates how his conversion to true Islam helped him confront his rage and recognize the brotherhood of all mankind.
"
I Am Rosa Parks by Brad Meltzer
"
"Kids always search for heroes, so we might as well have a say in it," Brad Meltzer realized, and so he envisioned this friendly, fun approach to biography – for his own kids, and for yours. Each book tells the story of one of America's icons in a vivacious, conversational way that works well for the youngest nonfiction readers, those who aren't quite ready for the Who Was biography series. Rosa Parks dared to stand up for herself and other African Americans by staying seated, and as a result she helped end public bus segregation and launch the country's Civil Rights Movement."

The Warm of Other Suns by Isabel Wilkerson
"
In this epic, beautifully written masterwork, Pulitzer Prize–winning author Isabel Wilkerson chronicles one of the great untold stories of American history: the decades-long migration of black citizens who fled the South for northern and western cities, in search of a better life. "
Invisible Man by Ralph Ellison
"
First published in 1952 and immediately hailed as a masterpiece,
Invisible Man
is one of those rare novels that have changed the shape of American literature. For not only does Ralph Ellison's nightmare journey across the racial divide tell unparalleled truths about the nature of bigotry and its effects on the minds of both victims and perpetrators, it gives us an entirely new model of what a novel can be."
"In this incisive critique, former litigator-turned-legal-scholar Michelle Alexander provocatively argues that we have not ended racial caste in America: we have simply redesigned it. Alexander shows that, by targeting black men and decimating communities of color, the U.S. criminal justice system functions as a contemporary system of racial control, even as it formally adheres to the principle of color blindness. The New Jim Crow challenges the civil rights community -- and all of us - -to place mass incarceration at the forefront of a new movement for racial justice in America.
"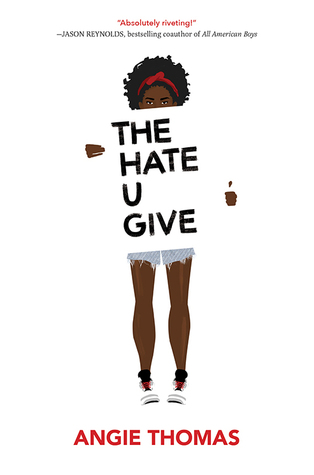 The Hate U Give by Angie Thomas
"Sixteen-year-old Starr lives in two worlds: the poor neighbourhood where she was born and raised and her posh high school in the suburbs. The uneasy balance between them is shattered when Starr is the only witness to the fatal shooting of her unarmed best friend, Khalil, by a police officer. Now what Starr says could destroy her community. It could also get her killed. Inspired by the Black Lives Matter movement, this is a powerful and gripping YA novel about one girl's struggle for justice. Movie rights have been sold to Fox, with Amandla Stenberg (The Hunger Games) to star."
**All summaries are provided by the book's listing on Goodreads.
Have you read any of these? Do you have any books to add? Let me know below!