First Chapter Tuesday is hosted every Tuesday by Diane over at
Bibiophile by the Sea
. Join the fun by making your own post and linking up over at Diane's blog, or simple check it out to find more new books to read!
Red Sister by Mark Lawrence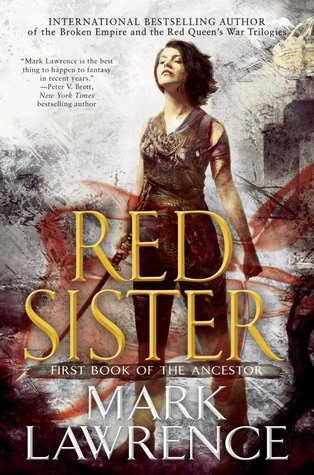 Prologue
"It is important, when killing a nun, to ensure that you bring an army of sufficient size. For Sister Thorn of the Sweet Mercy convent Lano Tacsis brought two hundred men.
From the forward aspect of the convent you can see both the northern ice and the southern, but the finer view is out across the plateau and over the narrow lands. On a clear day the coast may be glimpsed, the Sea of Marn a suggestion in blue.
At some point in an achingly long history a people, now lost to knowledge, had built one thousand and twenty-four pillars on the plateau, Corinthian giants thicker than a thousand-year oak, taller than a long-pine. A forest of stone without order or pattern, covering the level ground from flank to flank such that no spot upon it lay more than twenty yards from a pillar. Sister Thorn waited amid this forest, alone and seeking her centre."
If you want to know about
Red Sister
, check out the synopsis on
Goodreads
!
I was so fortunate to receive an ARC of this highly anticipated beginning of Mark Lawrence's new fantasy trilogy, and I am
loving
it so far! I'm only ~150 pages in, but I am definitely hooked and can't wait to find out how the rest of the story ends.
I really wanted to post the beginning of the first chapter along with the prologue, but since it is an ARC and I haven't seen any chapter excerpts around the internet, I'll stick to what is already out there. :)
Red Sister
will be published April 4th, 2017 by Ace Publishing.
What do you think? Would you keep reading?

(And feel free to join in and make your own post!)
If you're enticed by this chapter, be sure to check out the full synopsis on Goodreads!
*Excerpt taken from the novel itself; I do not claim to own any part of the excerpt.