First Chapter Tuesday is hosted every Tuesday by Diane over at
Bibiophile by the Sea
. Join the fun by making your own post and linking up over at Diane's blog, or simple check it out to find more new books to read!
This week I've chosen to feature The Empire's Ghost by Isabella Steiger, which actually comes out today! I've just about finished my ARC and will actually have a review up for it next week. This is a brand new high fantasy series and I have been really enjoying it.
The Empire's Ghost by Isabelle Steiger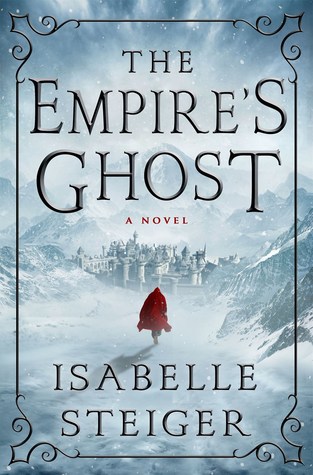 Prologue
The last time it snowed, Roger took a bundle of firewood and some biscuits to the Dragon's Head.
The streets of Sheath Alleys were perpetually dank, as narrow and twisting as a guilty thought— and they inspired many, as Roger knew all too well. It was as if Valyanrend itself fled to Sheath to escape its past, to disappear into the shadows as so many of its citizens had done. For the city, at least, it was a lost cause.
Chapter One
"You're not feeding those birds again, are you?" Morgan called, and Seth started. He hadn't realized she was awake. He tried to kick the crusts out of sight, but Morgan was already opening the door, squinting into the sun.
Valyanrend's districts tended to be jumbled and haphazard more often than not, but the streets of Sheath seemed especially capricious, as if they'd been designed to make no sense.
What do you think? Would you keep reading this?

(And feel free to join in and make your own post!)
If you're enticed by this chapter, be sure to check out the full synopsis on Goodreads!
*Excerpt taken from the novel itself; I do not claim to own any part of the excerpt.