TBR Thursdays is hosted by
Kim @ Kimberly Faye Reads
! This feature was created with the intent of spotlighting a title from your shelf that you planning on reading in order to discuss why you want to read it, as well to discuss the book with others! If you'd like to join, feel free to use the banner created by Kimberley (or your own), and stop by her page to participate.
I've got two graphic novels waiting for me on my TBR, so I've decided to feature both of them! Up first is Aether & Empire by Mike Horan, and second is The Wicked + Divine by Kieran GIllen. I'm already a little bit into Aether & Empire, but haven't had a chance to read more yet, so I'm excited to see how the story continues to go. The Wicked + Divine sounds really interesting and I've heard so many split opinions on it, so I can't wait to find out for myself. Read on for synopses!
"At the height of Victoria's reign, a scientific expedition to Mars has vanished and the daring rescue mission is now a race against time and space. When control is wrested from fellow scientists and given to a heroic crew of Her Majesty's Navy, can the two groups work together to save the men of the first voyage? Jules Verne meets Star Trek in Aether & Empire, a tale of adventure, mystery, and terror from Blue Juice Comics! This volume collects Issues 1-6 of the comic book."











Aether & Empire
by Mike Horan, Bong Dazo, and Tim Yates
P

ublication Date: December 6th, 2016
Blue Juice Comics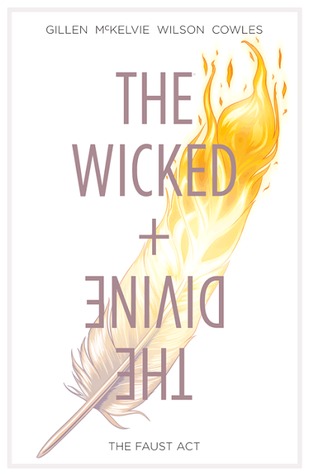 "Every ninety years, twelve gods incarnate as humans. They are loved. They are hated. In two years, they are dead. The team behind critical tongue-attractors like Young Avengers and PHONOGRAM reunite to create a world where gods are the ultimate pop stars and pop stars are the ultimate gods. But remember: just because you're immortal, doesn't mean you're going to live forever."
The Wicked + Divine by Kieran Gillen,
Jamie McKelvie (Illustrations), Matt Wilson (Colorist), Clayton Cowles
Publication Date:
November 12th, 2014
Image Comics
Are you interested in reading these books? What books are on your TBR?
Never miss a post of bookish fun by subscribing to Forever Lost in Literature!