First Chapter Tuesday is hosted every Tuesday by Diane over at
Bibiophile by the Sea
. This is meme in which bloggers share the first chapter of a book that they are currently reading or thinking about reading soon. Join the fun by making your own post and linking up over at Diane's blog, or simple check it out to find more new books to read!
Today's first chapter preview is from John Boyne's new novel The Heart's Invisible Furies! I received an ARC of this one about a month or two ago, but unfortunately it kept getting pushed back because of other commitments, but I was finally able to pick it up and I'm am enjoying it so much. I've seen nothing but rave reviews for it, and so far it is completely living up to all of them.
The Heart's Invisible Furies by John Boyne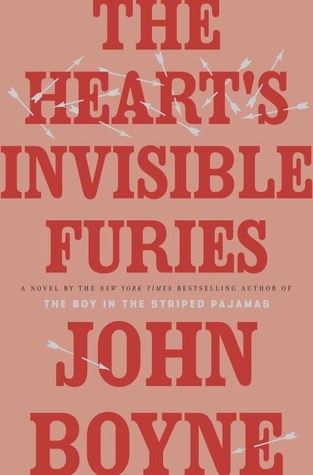 "Part One: Shame
1945 The Cuckoo in the Nest
The Good People of Goleen
Long before we discovered that he had fathered two children by two different women, one in Drimoleague and one in Clonakilty, Father James Monroe stood on the altar of the Church of Our Lady, Star of the Sea, in the parish of Goleen, West Cork, and denounced my mother as a whore.
The family was seated together in the second pew, my grandfather on the aisle using his handkerchief to polish the bronze plaque engraved to the memory of his parents that was nailed to the back of the woodwork before him. He wore his Sunday suit, pressed the night before by my grandmother, who twisted her jasper rosary beads around her crooked fingers and moved her lips silently until he placed his hand atop hers and ordered her to be still. My six uncles, their dark hair glistening with rose-scented lacquer, sat next to her in ascending order of age and stupidity. Each was an inch shorter than the next and the disparity showed from behind. The boys did their best to stay awake that morning; there had been a dance the night before in Skull and they'd come home moldy with the drink, sleeping only a few hours before being roused by their father for Mass.
At the end of the row, beneath a wooden carving of the tenth station of the cross, sat my mother, her stomach fluttering in terror at what was to come. She hardly dared to look up."
What do you think? Would you keep reading this?

(And feel free to join in and make your own post!)
If you're enticed by this chapter, be sure to check out the full synopsis on Goodreads!
*Excerpt taken from the novel itself; I do not claim to own any part of the excerpt.