Waiting on Wednesday is a weekly meme hosted by Breaking the Spine that spotlights exciting upcoming releases that we can't wait to be released!
This week's upcoming book spotlight is:
Beasts Made of Night by Tochi Onyebuchi
Publication Date: October 31st, 2017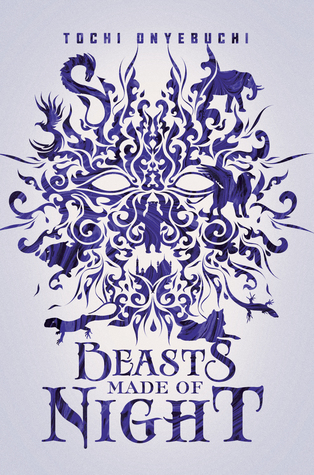 "
In the walled city of Kos, corrupt mages can magically call forth sin from a sinner in the form of sin-beasts – lethal creatures spawned from feelings of guilt.
Taj is the most talented of the aki, young sin-eaters indentured by the mages to slay the sin-beasts. But Taj's livelihood comes at a terrible cost. When he kills a sin-beast, a tattoo of the beast appears on his skin while the guilt of committing the sin appears on his mind. Most aki are driven mad by the process, but 17-year-old Taj is cocky and desperate to provide for his family.
When Taj is called to eat a sin of a royal, he's suddenly thrust into the center of a dark conspiracy to destroy Kos. Now Taj must fight to save the princess that he loves – and his own life.
A gritty Nigerian-influenced fantasy.
"
Sin-beasts and sin-eaters? Nigerian-influenced fantasy? I am so intrigued by how great this interesting this book sounds. I am also incredibly drawn to that cover--it's so intricate and has a very darkly beautiful vibe coming from it. Can't wait to read this one!
What do you think about this upcoming release? What are your anticipated upcoming releases?