Top Ten Tuesday is weekly book blog meme now hosted by Jana over at
The Artsy Reader Girl
!
This week's topic is: Books That I've Owned For Ages and Still Haven't Read
The original topic idea was 'Books That Have Been On My TBR the Longest and I Still Haven't Read,' but I decided to tweak it a bit to books that I currently own and have had on a shelf for
years
(or in a stack, I don't have enough room for my books), but have let them languish there unread instead.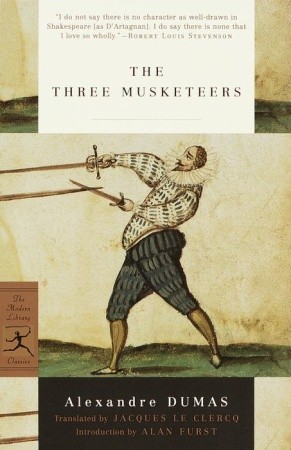 The Three Musketeers by Alexander Dumas
I really liked
The Count of Monte Cristo
and I'd love to read this classic as well, I just haven't managed to pick it up. Maybe this year?
Buy the book:
Amazon
|
Book Depository
Books v. Cigarettes by George Orwell
I'm honestly not the biggest fan of
1984
, but I am interested in Orwell's writing and ideas, so I'd love to read more from him. This particular slim volume is a collection of essays that I just haven't gotten around to.
Excerpt from Synopsis:
"Beginning with a dilemma about whether he spends more money on reading or smoking, George Orwell's entertaining and uncompromising essays go on to explore everything from the perils of second-hand bookshops to the dubious profession of being a critic, from freedom of the press to what patriotism really means."
Buy the book:
Amazon
|
Book Depository
If I Die in a Combat Zone: Box Me Up and Ship Me Home by Tim O'Brien
The Things They Carried
is one of my favorite books, yet I still haven't managed to pick this one up. I think I honestly just got a little fatigued from Vietnam books and couldn't bring myself to read another, as I'd been reading through a lot back when I first read
The Things They Carried
. They are some of the more depressing books out there and I have to be in the right mindset to jump into something so brutal and bleak--particularly if it's based off of something that actually happened..
Buy the book:
Amazon
|
Book Depository
Sackett's Land by Louis L'Amour
I've never really read any westerns, and I'd like to. Also, my dad was a big Louis L'Amor fan (and he wasn't a big reader!), so I would like to read what I know he loved. I have the copy that he read and I want to read that one, but I definitely think the emotional aspect of reading a book that my dad read and is worn by his use is getting in the way. It's been sitting on my shelf since he died, so it's been a while. One day I will have the strength to finally pick it up--hopefully!
Buy the book:
Amazon
|
Book Depository
A Tale of Two Cities by Charles Dickens
I half-liked/half-disliked
Great Expectations
and I'd love to read more from Dickens. I've read
A Christmas Carol
and I also own a copy of
David Copperfield
, but I've heard good things about this one and it's been on my shelves the longest. I think my copy is actually my sister's old copy that she read in school when she was a freshman in high school... which was a long time ago...
Buy the book:
Amazon
|
Book Depository
The Map of Time by Felix Palma
I picked this one up at a local bookshop completely randomly one day many years ago. I'd never heard of it or the author; I just saw it, read the back, thought 'this looks good!' and took it home (remember those days?). It's also 613 pages and it's hard to commit to something completely unknown sometimes. It stills sounds
awesome
and I can't wait to read it. You know. One day.
Excerpt from synopsis:
"
Characters real and imaginary come vividly to life in this whimsical triple play of intertwined plots, in which a skeptical H. G. Wells is called upon to investigate purported incidents of time travel and to save lives and literary classics, including Dracula and The Time Machine, from being wiped from existence.
"
Buy the book:
Amazon
|
Book Depository
King Rat by James Clevell
I've only heard good things about Clevell's work and I'd love to dive in to this one, but I haven't. I think it's partly because I'm somewhat intimidate and I also have a mass market copy which make it this awkwardly small, super thick, tiny-fonted book that I always hesitate to read.
Buy the book:
Amazon
|
Book Depository
A Time Traveller's Guide to Elizabethan England/Medieval England by Ian Mortimer
I'm a total history nerd and I think these books by Ian Mortimer sound so fun! I think my aunt and uncle got them for me one Christmas and I've really been meaning to pick them up, but... you know how the story goes.
(Medieval England) Buy the book:
Amazon
|
Book Depository
(Elizabethan) Buy the book:
Amazon
|
Book Depository
Choke by Chuck Palahniuk
So I really want to read some Chuck Palahnik because he's sort of considered a 'modern classic' in his own right by some people, but the truth is: I'm scared. I'm not really a squeamish person, but I
do
have a case of emetophobia and I've heard his books can go weird directions and be a bit nasty, so... maybe one day I'll work up the courage, but that day has not yet come. I don't even know if this book would actually bother me, but hey, thanks anxiety.
Buy the book:
Amazon
|
Book Depository
Fingersmith by Sarah Waters
I
love
Sarah Waters, but somehow this copy has just been sitting in my room for years now. I don't know why, I just haven't felt as inclined to grab it. I think
The Paying Guests
was just so good that I subconsciously don't want to read anything by her that isn't
that
good.
Buy the book:
Amazon
|
Book Depository
The Dark Hills Divide by Patrick Carman
Okay so this one is sort of a funny one for me. I got it when I was in like...5th grade? 4th grade? I'm not sure, but to this day I still think it looks so perfect and it totally fits the atmosphere that I like in books, but I've never read it. I've read the first page probably at least four times, but never got further because there was always something else calling me away. I even remember a girl in my class seeing me with it and telling me that she loved that book and it was so good, and yet there it sits on my shelf.......
Buy the book:
Amazon
|
Book Depository
Hyperion by Dan Simmons
This is considered one of the ultimate sci-fi series to read and I've had this for what feels like ages, but I just haven't read it yet.
Buy the book:
Amazon
|
Book Depository
What books have you owned for a long time, but still haven't read? Do you recommend any of these books?
I am also an Amazon affiliate, so if you'd prefer to shop through Amazon, just click the banner on the upper right hand side of my blog! (above the 'Follow by email' box, you may need to turn off adblock to see it!)