This weeks's topic: Favorite Book Quotes
This was really hard because I have so many favorite quotes., so I first decided that I would just make a list of some of my favorites, and then just go through it again and weed it down. This did not work.
So then I thought I would pick ten books and share some of my favorite quotes from that book also. This was
still
difficult, but it was the best I could do, so here are some of my favorite quotes from
ten
eleven (I can't count) different books! Some have more than one quote, others have just one. Some are a bit longer, some are shorter. Let me know if you've read any of these books or what you think of these! This list is in no particular order.
Also, I added page numbers if it was from a book that I owned, but some were read on Kindle and I don't have them!
1. The Queen of the Night by Alexander Chee
"Men often complain of the wickedness of women. Of how we delight in what power we have over their hearts. But they reign over everything else, so of course, they grudge us this, should we ever come to rule over this thing the size of their fist" (342)."
"In this world, some time long ago, far past anyone's remembering, women as a kind had something so terrible, so awful, so fantastically cruel that they and their daughters and their daughters' daughters were forever beyond forgiveness until the end of time - unforgiven, distrusted, enslaved, made to suffer for the least offenses committed against any man. What was remembered were the terms of our survival as a class: We were to be docile, beautiful, uncomplaining, pure, and failing that, at the least useful. In return, we might be allowed something like a long life. But if we were not any of these things, by a man's reckoning, or if perchance we violated their sense of that pact, we would have no protection whatsoever and were to be treated worse than any wild dog or lame horse" (538).
"The animal will be tender with you, and you with it, but the animal never forgets that when what it wants for survival requires your death, it will become unafraid to kill you. And so you cannot forget this, either."
Buy the book:
Amazon
|
Book Depository
2.
Nevernight/Godsgrave by Jay Kristoff
"She wanted to kill this boy, she realized. Cut him belly to throat and wash her hands inside him. Soak herself to the elbows and paint her lips and breasts with his blood. Her thighs ached at the thought. Breath coming faster as she pressed one hand between her legs, murder and lust all a-tumblr in her head as Mister Kindly whispered from her shadow."
"Conquer your fear, and you can conquer the world."
"Memory is a traitor, and a liar, and a good-for-nothing thief."
"If Vengeance has a mother, her name is Patience."
Buy the book:
Amazon
|
Book Depository
3.
Deathless by Catherynne M. Valente
"Magic does that. It wastes you away. Once it grips you by the ear, the real world gets quieter, until you can hardle hear it at all" (25).
"Men, they feel nothing like what we must endure. You have to make room in yourself for him, and that is the same in a house as in a body. See that you keep some rooms for yoursef, locked up tight" (58).
"You cannot punish someone unless you wish to forgive them, after all. What would be the point?" (96).
Buy the book:
Amazon
|
Book Depository
4.
The Lord of the Rings by J.R.R. Tolkien
"It's a dangerous business, Frodo, going out your door. You step onto the road, and if you don't keep your feet, there's no knowing where you might be swept off to."
"That there's some good in this world, Mr. Frodo… and it's worth fighting for."
"Deeds will not be less valiant because they are unpraised."
Buy the book:
Amazon
|
Book Depository
5.
The Crimson Petal and the White by Michel Faber
"Ach,' she says. 'There ain't nuffink in this world but men and women, is there? So you got to care about 'em, ain't you, else what you got to care about?"
"It burns in her mind, branded there by Mrs Castaway: Wicked is what we can't help being, little one. The word was invented to describe us. Men love to wallow in sin; we are the sin they wallow in."
Buy the book:
Amazon
|
Book Depository
6.
Oathbringer by Brandon Sanderson
"Sometimes, a hypocrite is nothing more than a man who is in the process of changing."
But merely being tradition does not make something worthy, Kadash. We can't just assume that because something is
old
it is
right.
"
"Art is about emotion, examination, and going places people have never gone before to discover and investigate new things. The only way to create something that nobody hates is to ensure that it can't be loved either. Remove enough spice from soup, and you'll just end up with water."
"'Logically,' Shallan said, 'the bright side is the only side you can look on, because the other side is dark.'"
Buy the book:
Amazon
|
Book Depository
7.
The Secret History by Donna Tartt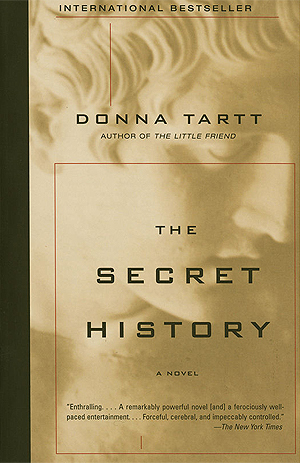 "Does such a thing as "the fatal flaw," that showy dark crack running down the middle of a life, exist outside literature? I used to think it didn't. Now I think it does. And I think that mine is this: a morbid longing for the picturesque at all costs."
Full disclosure: The Secret History is one of my all-time favorite books and I have inadvertently memorized this entire first paragraph. What can I say?
Buy the book:
Amazon
|
Book Depository
8.
A Conjuring of Light by V.E. Schwab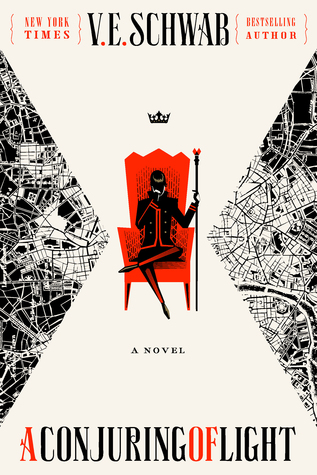 "Scars are not shameful," said Ojka, "not unless you let them be. If you do not wear them, they will wear you" (141).
"
Anoshe
was a word for strangers in the street, and lovers between meetings, for parents and children, friends and family. It softened the blow of leaving. Eased the strain of parting. A careful nod to the certainty of today, the mystery of tomorrow. When a friend left, with little chance of seeing home, they said
anoshe
. When a loved one was dying, they said
anoshe
. When corpses were burned, bodies given back to the earth and souls to the stream, those left grieving said
anoshe
.
Anoshe
brought solace. And hope. And the strength to let go. (613).
"Love and loss," he said, "are like a ship and the sea. They rise together. The more we love, the more we have to lose. But the only way to avoid loss it to avoid love. And what a sad world that would be" (371).
Buy the book:
Amazon
|
Book Depository
9.
Before the Devil Breaks You by Libba Bray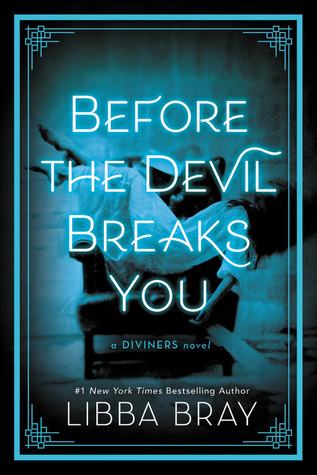 "We are a country built by immigrants, dreams, daring, and opportunity. We are a country built by the horrors of slavery and genocide, the injustice of racism and exclusion. These realities exist side by side. It is our past and our present. The future is unwritten. This is a book about ghosts. For we live in a haunted house."
10.
A Face Like Glass by Frances Hardinge
"There are many dangers in the jungle, but perhaps the greatest is forgetting that one is not the only hunter, and that one is probably not the largest."
"Because caring was a thing with claws. It sank them in, and didn't let go. Caring hurt more than a knife to the leg, more than a few broken ribs, more than anything that bled or broke and healed again. Caring didn't break you clean. It was a bone that didn't set, a cut that wouldn't close" (207).
11.
Every Heart a Doorway by Seanan McGuire
"We notice the silence of men. We depend upon the silence of women."
Buy the book:
Amazon
|
Book Depository
Have you read any of these books? What are some of your favorite quotes?
And some parting wisdom to leave you all with from the great Terry Pratchett (first quote) and Joe Abercrombie (second)*:
"If you trust in yourself... and believe in your dreams... and follow your star... you'll still get beaten by people who spent their time working hard and learning things and weren't so lazy."
The truth is like salt. Men want to taste a little, but too much makes everyone sick.
*Why yes, I did decide to cleverly add two more quotes I really like by pretending I am leaving with parting advice.
I am also an Amazon affiliate, so if you'd prefer to shop through Amazon, just click the banner on the upper right hand side of my blog! (above the 'Follow by email' box, you may need to turn off adblock to see it!)