This week's topic is: Frequently Used Words In [Insert Genre/Age Group] Titles
I decided to tweak this idea (well, basically just take the word 'title' and run with it) and feature some of my favorite titles that run just a bit longer than the average title. Basically, if I want to abbreviate the title then I'm classifying it as long. I actually really like the occasional long, clever book title; I feel like they add some automatic quirkiness and intrigue to a book. Here's a few that I like!
The Girl Who Circumnavigated Fairyland in a Ship of Her Own Making by Catherynne M. Valente
and, of course, subsequent titles in the series:
The Girl Who Fell Beneath Fairyland and Led the Revels There
The Girl Who Soared Over Fairyland and Cut the Moon in Two
The Hundred-Year-Old Man Who Climbed Out of the Window and Disappeared by Jonas Jonasson
Colorless Tsukuru and His Years of Pilgrimage by Haruki Murakami
Hard-Boiled Wonderland and the End of the World by Haruki Murakami
American Wolf: A True Story of Survival and Obsession in the West by Nate Blakeslee
The Guernsey Literary and Potato Peel Society by Mary Ann Shaffer and Annie Barrows
Good Omens: The Nice and Accurate Prophecies of Agnes Nutter, Witch by Terry Pratchett & Neil Gaiman
Destiny of the Republic: A Tale of Madness, Medicine and the Murder of a President by Candice Millard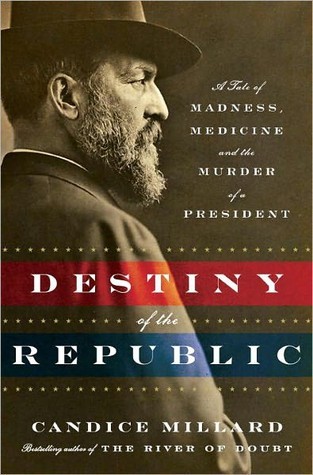 Don't Tell Mum I Work on the Rigs, She Thinks I'm a Piano Player in a Whorehouse by Paul Carter
Buy the book:
Amazon
|
Book Depository
*Note: I've never actually read this book, but I saw this one a while ago and just love this title.
What I Talk About When I Talk About Running by Haruki Murakami
Courtesans and Fishcakes: The Consuming Passions of Classical Athens by James Davidson
I have absoutely no idea what this book is about, but I saw this the other day and thought it would be a perfect title to add in here:
Alphabet Juice: The Energies, Gists, and Spirits of Letters, Words, and Combinations Thereof; Their Roots, Bones, Innards, Piths, Pips, and Secret Parts, Tinctures, Tonics, and Essences; With Examples of Their Usage Foul and Savory
What are some of your favorite long book titles?