*A Ladder to the Sky will be published Tuesday, November 13th!*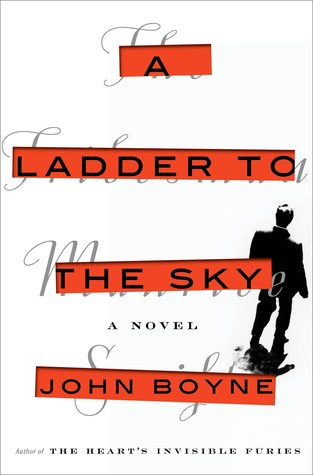 A Ladder to the Sky by John Boyne
Hogarth Press, 2018
Hardcover. 384 pages.


About A Ladder to the Sky:
"'The new novel from the beloved New York Times bestselling author of The Boy in the Striped Pajamas and The Heart's Invisible Furies , a seductive Highsmithian psychodrama following one brilliant, ruthless man who will stop at nothing in his pursuit of fame

Maurice Swift is handsome, charming, and hungry for success. The one thing he doesn't have is talent - but he's not about to let a detail like that stand in his way. After all, a would-be writer can find stories anywhere. They don't need to be his own. Working as a waiter in a West Berlin hotel in 1988, Maurice engineers the perfect opportunity: a chance encounter with celebrated novelist Erich Ackermann. He quickly ingratiates himself with the powerful - but desperately lonely - older man, teasing out of Erich a terrible, long-held secret about his activities during the war. Perfect material for Maurice's first novel.

Once Maurice has had a taste of literary fame, he knows he can stop at nothing in pursuit of that high. Moving from the Amalfi Coast, where he matches wits with Gore Vidal, to Manhattan and London, Maurice hones his talent for deceit and manipulation, preying on the talented and vulnerable in his cold-blooded climb to the top. But the higher he climbs, the further he has to fall..."
Before I jump into the review, I just want to say that as nice as the final cover is, I really liked the cover from the ARC (right):
I don't how John Boyne keeps doing it, but A Ladder to the Sky was yet another brilliant book that left me shaking my head with joy at Boyne's cleverness. This book was spectacular. As much as I want to dive in and discuss this book in detail for this review, I'm specifically going to keep things as vague as possible about the characters and plot itself because I think a big part of this book is meeting the characters yourself and developing your own opinions as the plot progresses. Just trust me on this one.
The backdrop of this story falls within the literary world, focusing largely on the high-brow, pretentious authors and the role of publishing deals. The sheer amount of literary criticism found throughout these pages was highly entertaining to read, as well as rather insightful in making the reader consider more about the inner workings of literary circles and the like. Boyne is a genius when it comes to his attention to detail in creating his setup, as well as with his intricate, thoughtful plotting. His prose is smooth and flows easily, making it easy to follow the story and lose yourself in the lives of his characters. He is not one to shy away from adding detail to his characters' lives, but it never feels slow or plodding, and in fact many of those small details tend to come back around in one way or another.
A Ladder to the Sky is a book that hides a lot of dark themes, horrible secrets, duplicitous people, and other morally questionable things under a veneer of literary politeness and business workings. Something that I really liked was how Boyne experimented with issues relating to terrible things that people have done in their past and whether or not they should affect the person's later life, even if they are regretful. Similarly, he deals with what constitutes true plagiarism and whether or not a story can ever really belong to one person if it hasn't been written down. It's topics such as these that really stand out and add so much extra depth to the story.
One of Boyne's other strengths is easily in his characters. In
The Heart's Invisible Furies
, which I read and loved last year, it was the characters that I fell in love and wanted to know more about, and it's the same sort of thing in this book. I may not love the characters (I'll get to that in a moment), but Boyne still develops his characters in such an engaging and realistic manner that you can't help but hang on to their every word and action. The sheer amount of wit that is hidden within the dialogue and commentary of each narrator is so engaging and felt like such a trademark of Boyne's writing style.
To expand a bit on the characters themselves, it's safe to say that almost none of the characters are particularly likable. The story is narrated in three different parts, each one with a different narrator. Out of the three narrators, we have: Erich Ackerman, an author with a rather tumultuous career; Edith, who is also a writer; and lastly, there's Maurice Swift, who's flat-out horrible and finishes the tale off. No matter how I felt about a character, though, I still loved each part of the story and enjoyed each section. The way in which Boyne weaves together the different characters' lives and elements of this story is phenomenal and left me unable to put this book down.
I won't say anything specific about the ending, but I will say that I loved it. It absolutely got a head-shaking, grinning-in-disbelief reaction from me that cemented how much I loved this book. If you love some good character studies, strong dialogue, and a story that will keep you guessing, please pick this book up and check it out. You will not be disappointed.
Overall, I've obviously given A Ladder to the Sky five stars!