Welcome to The Friday Face-Off, a weekly meme here at Books by Proxy. Join us every Friday as we pit cover against cover, and publisher against publisher, to find the best artwork in our literary universe.
I felt that it was time to join in another Friday Face-Off, so here we go!


"Moonlight drowns out all but the brightest stars." – a cover featuring a starry sky
The original topic for this week was for a book cover with a spider on it, but.. guys, I don't like spiders. Like I really, really hate them. I appreciate that they eat other bugs and are good guys overall, but I have a long, fraught history with them invading my house no matter what I do, so I'm not exactly inclined to pick up a book with a spider on it. But more importantly, I also simply couldn't find any covers with spiders on them from books I've read. I was hoping that one of the other Harry Potter and the Chamber of Secrets books might have a picture of Aragog on it, or The Hobbit might have one of those big spiders, but alas, I was out of luck.
Because of this, I decided to go back into the archives of Friday Face-Off topics and pick one that I missed, so I went with a starry sky! I chose The Book of Strange New Things by Michel Faber because I didn't see a cover that fit this topic better than this one. Plus, I love this book. It's about a man who is basically offered a chance to travel to a new planet to interact with the alien species there and... the entire thing is a bit wacky. I highly recommend it.
The Book of Strange New Things by Michel Faber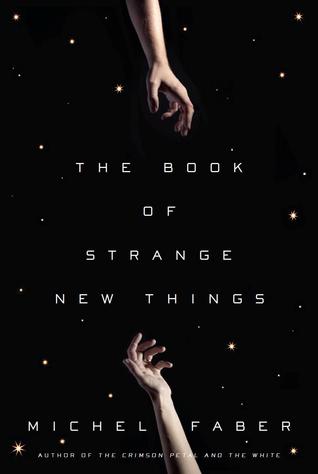 US Hogarth HC || US Hogarth PB || Canadian HC
Czech Edition || Spanish PB Edition || Romanian Edition
Estonian Edition || Portuguese Edition || Spanish HC Edition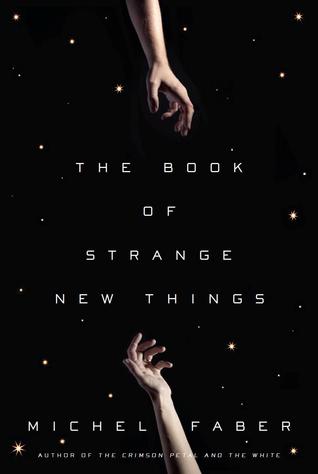 My choice has to be with the US Hardcover with the dark starry background and hands reaching out. I think it lends a mysterious air to the book, but it also feels.. hopeful? yearning? curious? I like it. I think the Czech cover is rather lovely as well.
Which covers do you like best?
Buy it! Amazon | Book Depository
I am also an Amazon affiliate, so if you'd prefer to shop through Amazon, just click the banner on the upper right hand side of my blog! (above the 'Follow by email' box, you may need to pause adblock to see it!)