*The Gilded Wolves will be published Tuesday, January 15th, 2019!*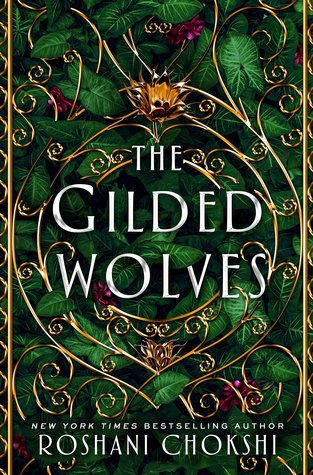 The Gilded Wolves by Roshani Chokshi
Wednesday Books, 2019
Hardcover. 464 pages.


About The Gilded Wolves:
"Set in a darkly glamorous world, The Gilded Wolves is full of mystery, decadence, and dangerous but thrilling adventure.

Paris, 1889: The world is on the cusp of industry and power, and the Exposition Universelle has breathed new life into the streets and dredged up ancient secrets. In this city, no one keeps tabs on secrets better than treasure-hunter and wealthy hotelier, Séverin Montagnet-Alarie. But when the all-powerful society, the Order of Babel, seeks him out for help, Séverin is offered a treasure that he never imagined: his true inheritance.

To find the ancient artifact the Order seeks, Séverin will need help from a band of experts: An engineer with a debt to pay. A historian who can't yet go home. A dancer with a sinister past. And a brother in all but blood, who might care too much.

Together, they'll have to use their wits and knowledge to hunt the artifact through the dark and glittering heart of Paris. What they find might change the world, but only if they can stay alive."
The Gilded Wolves is one of those books that I've been anticipating for so long now and have been seeing so many wonderful things about that my expectations were pretty high. I always try not to let the hype influence my expectations too much, but I still had high hopes and honestly, they weren't quite met with this one.
This book follows a diverse group of characters who regularly embark upon a variety of 'acquisitions' (aka heists), in which the leader's main goal at the end of everything is the reinstatement of his inheritance. The Gilded Wolves is a lot of a fun and makes for a highly entertaining story, but it's also one that felt oddly paced and a little difficult to get through at times. I found the beginning of the book in particular to be exceptionally slow and difficult to get into. It wasn't until at least a hundred or so pages in that I really started to be able to enjoy the story more and follow along with the world. The magic and world felt rather confusing to me at many times, almost as if we'd been dropped into a sequel or part of an already-established world. There was also a lot of info-dumping in the beginning (I assume to help with the more confusing bits), but it was a beast to plow through and frankly just made it harder to get into the story. There was way too many things going on, and I feel like if it had been narrowed down to be slightly more focused in scope it might have been easier to follow.
One of the strongest points of this book, however, is the cast of characters. Chokshi truly did a remarkable job of including well-developed, vastly diverse characters, from race to sexuality to religion and more--and all with fantastic personalities and great humor. There are racist elements discussed in productive manners, sexist elements (this is 1889 Paris, after all), and many people consider one of the characters to be on the autism spectrum (I don't feel knowledgeable enough to fully comment on that, but I feel it is important to note that that seems to be a common thought). All of this really made for interesting and authentic experiences. My only struggle with the characters was that it seemed like some (not all!) of the witty dialogue and banter was a little forced, as if Chokshi wanted her group of characters to be so amusing that she ended up trying too hard and was left with some unnatural dialogue and interactions.
Our main character group consists of Severin, Laila, Zofia, Enrique, and Tristan. Severin is basically the leader of the group and is a very determined, passionate person. He likes to act as though he's tough and hard-hearted, but he's also pretty vulnerable as well; he also makes a lot of extremely frustrating decisions that annoyed me quite a bit throughout the book. Laila is a lovely person who is exceptionally considerate of others and always feeding them, and I particularly loved the close attention she paid to Zofia's preferences and how she always did her best to always accommodate them. A+ as a good friend and person! Zofia is a character I really liked. I think her personality was expertly done and I found it interesting to see her experiences with all of the different characters, especially in regards to her intelligence and struggle to understand some types of humor. Enrique is the wittiest of the bunch and is the type that is always around to make jokes and make things more light-hearted--or complain about things. Lastly is Tristan, the more serious brooding one of the bunch at times, but who also has a soft spot for animals, particularly large spiders, and who can easily turn up his charm and big eyes to win people over.
If you like solving different puzzles and riddles (especially ones including math), then you are going to love this book. If you don't, well, there might be a lot of places you'll want to skim. I unfortunately happen to be in the latter half. I love a good puzzle, but I don't love reading about people solving them and doing math so much, so those extensive sections tended to be a bit much for me.
Before I end this review, I want to touch on one very minor thing that bothered me (there will be no spoilers, but this is very mildly in general spoiler territory, so if you want to know absolutely nothing about this book then skip over this one paragraph--but I promise I won't give away anything major): In the beginning of the book's setup we are told that Severin and his gang do so many acquisitions all the time and are experts at it by now. That's all fine and dandy, but in The Gilded Wolves just about every single plan they undertake goes awry in some way or another. I like seeing that people are human and make mistakes, but honestly, if you're going to say a group is excellent at what they do, you're going to have to prove that to me at least once. From what I can tell, they mess up a lot. This is a minor quibble on my end, but it did frustrate me.
Overall, I'm really unsure what to rate this book. Part of me thinks of this book with fondness for how entertaining and imaginative it was, but part of me is also bored and frustrated with a lot of it as well. For now, I'm giving it 3.75 stars. The characters and diversity inclusions were awesome, the sheer imagination in this world and magic system was fascinating, but the execution was all a little unimpressive. I do still highly recommend this to you if it sounds interesting because so many people seem to be adoring it and I wouldn't want you to miss out on that potential!