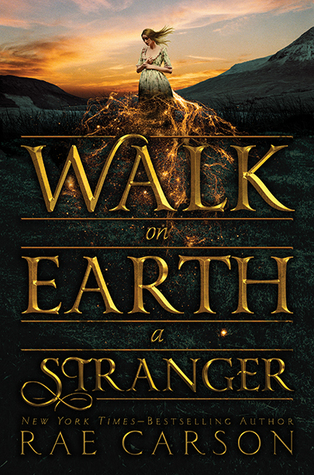 Walk on Earth a Stranger by Rae Carson. Greenwillow Books, 2015. 432 pages. Ebook.
First off, I love historical fiction (if that wasn't already obvious by so many of my reading choices). History has always been a favorite subject of mine, and I prefer to read books that are set in a time that is different from the present. But I will be honest: the wild west/19th century American history isn't exactly one of my favorite backdrops, which is actually one of the main reasons why I put this book off for so long. However, it appears I don't know what I'm missing, because Rae Carson has written one of the better, more original books that I've read in quite a while and I loved it.
I genuinely enjoyed Carson's first trilogy,
The Girl of Fire and Thorns
, which I read back in 2013, so I was already confident in her writing ability, but again, I was unsure about the subject matter. Carson proved her skills by creating an original, finely developed plot and strong group of characters that have resulted in a truly enjoyable story. Her writing style is smooth and effortless; it will quickly draw you in and keep you listening to every word. Although there are subtle hints at romance, she doesn't bang you over the head with it or even make it an overly important plot role.
The story is narrated by Leah Westfall - also known as 'Lee' when she dresses up as a boy to make it to California. We've all seen the 'girl-dresses-up-as-boy' situation before, but fortunately Carson carried this notion out
in such a way that it wasn't annoying or overly cliche'd, and she was actually very realistic about the struggles of being a female on a long trip with very little privacy in a time when there was a great deal of emphasis placed on being 'proper.' (For instance, men are
not
involved in the subject of pregnancies.)
Carson has constructed an in-depth and well-rounded cast of characters, something that appears to be quite a strong suit for her. Each person had their own motivation for travelling to California, as well as unique personalities that truly brought each person to life. Jefferson, Leah's friend from home, is a helpful, strong-headed, and rather aloof boy who is easy to relate to and understand. Besides Jefferson, there is also the entire wagon trail company that we get to meet and interact with that is made up with a variety of friendly and wise characters - as well as some close-minded and arrogant ones. All of these people, however, make for quite an engaging adventure.
I will say that there appears to have been some sort of miscommunication somewhere along the lines of my picking up this book, because I was under the impression that it would involve more gold-digging or use of Leah's gift in a more useful manner. Instead, the entire story basically covered Leah's trip to California. Don't get me wrong, it was still wonderfully told and entertaining, but it juts wasn't what I was led to be believe by the summaries and descriptions of the book, so don't be misled!
I am
so glad
that there is going to be a sequel! I have so many questions that still need to be answered. For instance, why does Leah even have this gift? Are there other random gifts out here that people have? Is this a somewhat magical world or still completely normal with the addition of Leah's random gift? Will Leah actually use this gift to its fullest extent once she's in California? And there is still
so much
potential for these characters that if Carson wasn't writing more in this series, I would be quite a bit more disappointed in this story, as this book was definitely more of a setup for the later series and provides a lot of important background.
Overall, I'm giving
Walk on Earth a Stranger
four stars for its compelling story and complex characters that really give this book life.
You might also like:
The Wrath and the Dawn by Renee Ahdieh
Legacy of Kings by Eleanor Herman
The Madman's Daughter by Megan Shepherd
Hidden Huntress by Danielle L. Jensen
A School for Unusual Girls by Kathleen Baldwin
The Queen of the Tearling by Erika Johansen