Waiting on Wednesday is a weekly meme hosted by Breaking the Spine that spotlights exciting upcoming releases that we can't wait to be released!
This week's upcoming book spotlight is:
The Empire's Ghost by Isabelle Steiger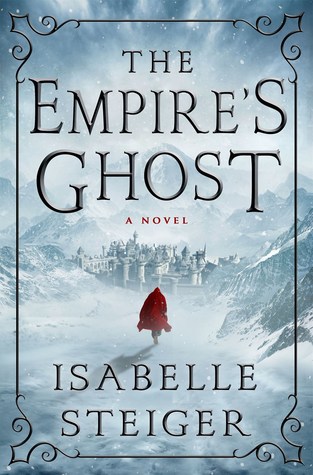 "An epic fantasy debut, The Empire's Ghost weaves together the lives of the haves and the have-nots both desperately fighting to reassemble the remains of a fallen empire.
The empire of Elesthene once spanned a continent, but its rise heralded the death of magic. It tore itself apart from within, leaving behind a patchwork of kingdoms struggling to rebuild. But when a new dictator, the ambitious and enigmatic Imperator Elgar, seizes power in the old capital and seeks to recreate the lost empire anew, the other kingdoms have little hope of stopping him. Prince Kelken of Reglay finds himself at odds with his father at his country's darkest hour; the marquise of Esthrades is unmatched in politics and strategy, but she sits at a staggering military disadvantage. And Issamira, the most powerful of the free countries, has shut itself off from the conflict, thrown into confusion by the disappearance of its crown prince and the ensuing struggle for succession.
Everything seems aligned in Elgar's favor, but when he presses a band of insignificant but skilled alley-dwellers into his service for a mission of the greatest secrecy, they find an unexpected opportunity to alter the balance of power in the war. Through their actions and those of the remaining royals, they may uncover not just a way to defeat Elgar, but also a deeper truth about their world's lost history.
Isabelle Steiger has crafted a powerful and masterful debut with The Empire's Ghost, the first book in a haunting new epic fantasy series."

I've had my eye on The Empire's Ghost for a while, but I've seen hardly anything about it around the blogging community, so my interest in this book just keeps growing! I think it sounds like it has incredible potential, and I really can't wait to have a chance to read this one. :)
What do you think about this upcoming release? What are your anticipated upcoming releases?