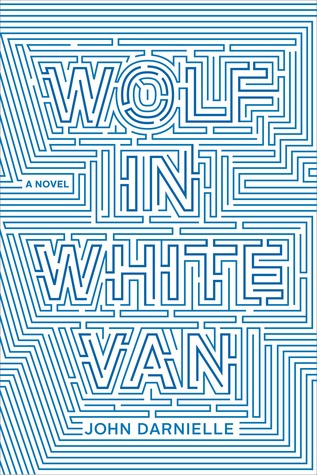 This is a really hard book to review. I mean, I generally loved it and gave it five stars, but somehow it still left me not knowing what to think just uncertain in general. I know that sounds confusing, so let me try to explain.
W
olf in White Van
is not your average story. This book is narrated by Sean Phillips, a man disfigured by an accident when he was 17 who also created a game called Trace Italian, "
a text-based, roleplaying game played through the mail."* Much of the

content of this story has already happened in the past and Sean is now retelling it to us through bits and pieces after two of his customers take the game a bit too seriously.
Initially, I was a little confused about the game - Trace Italian - itself. It felt odd to consider the idea of playing a game in which you write down your chosen move in a creative (or not creative) letter and send it to the creator of the game, who then writes down what happens after that move and mails it back; it's hard for me to imagine that it would appeal to very many people, but apparently it did! I have to admit, though, that I really came around to the idea, and found the entire concept pretty interesting.
What I loved about this book and what pushed me to give it five stars was because of frequent moments in Sean's narrative when I felt as if I understood exactly what he meant. Not in a simple, 'oh, that's relatable' sort of way, but almost on a deeper level, a level that tells me that Darnielle is an incredibly gifted writer who can capture some intense, often difficult to describe emotions and feelings. I was so blown away with Darnielle's writing and his ability to craft such an odd book in such a fascinating manner. On the one hand, the plot and story is simple, but on the other, it's is so dazzingly
(is that a word?)
complex that I just don't know how to describe it.
Sean is a compelling character. He's undergone an immense tragedy, which gives him a unique perspective on the world, yet even when he discusses his childhood it is apparent that he was a particularly unique child. I held onto his every word with immense interest, making it hard to step away from Sean and the thoughts he shared and enter back into my everyday life.
Wolf in White Van
is a quick, engrossing read, and I recommend it to anyone who wants a more thoughtful, out of the ordinary book. This book is only about 200 pages, and it goes by fast, so it is definitely doable. Oerall, I am giving it five stars!
*Quote from book synopsis on Goodreads.
I am also an Amazon affiliate, so if you'd prefer to shop through Amazon, just click the banner on the upper right hand side of my blog! (above the 'Follow by email' box, you may need to turn off adblock to see it!)
You might also like:
The Vegetarian by Han Kang
Dear Mr. M by Herman Koch