This week's topic is: (Fictional) Bookstores & Libraries I'd Love to Visit

The original topic was actual libraries/bookstores that we'd love to visit in real life, but there are so many that I want to visit and I've thought of making other posts for those, so I decided to just have some fun and talk about fiction libraries/bookstores that I would do anything to visit. These are listed in no particular order. Let me know what fictional bookstores you would love to visit!


1.
Cemetery of Forgotten Books
from The Shadow of the Wind by Carlos Ruiz Zafon
I want nothing more than to simply wander the stacks of this huge, mysterious library. The Cemetery of Forgotten books is a hidden, extensive collection of books otherwise forgotten by the rest of the world, cared for by none other than the protagonist's father, an antiquarian and rare book dealer. In the book, the protagonist is told to pick out one book from the shelves to basically take care of and explore. I would love to wander through those labyrinthine shelves and see what there is to offer.
"Every book, every volume you see here, has a soul. The soul of the person who wrote it and of those who read it and lived and dreamed with it. Every time a book changes hands, every time someone runs his eyes down its pages, its spirit grows and strengthens."


Buy the book: Amazon | Book Depository
2. The Hogwarts Library
from the Harry Potter series
It's not that the Hogwarts Library is anything momentous (I don't think?), but I do love the idea of a library full of magical texts, and you can be sure that I want into the restricted section. I just feel like there are a lot of hidden and surprising books in this library that I would love to explore. Plus, the movies always have tiny hidden tidbits like the books shelving themselves and whatnot, which I think is pretty fun.
"'Because that is what Hermione does,' Ron said, shrugging. When in doubt, go to the library."


Buy the book: Amazon | Book Depository
3. Morpheus' Library/Library of Dreams
from the Sandman by Neil Gaiman (Vol. 2)
This is probably one of my favorite fictional libraries because I just love the idea of a library filled with not only every single book ever written, but also
every single book never written
. It has real books, imaginary books mentioned in real books, books not written but imagined, and books completely lost to history. If only this one could be real...
"'Oh yes, but
unusual
books. You'll find none of them on earth. In
this
section, for example, are novels their authors never
wrote
, or never finished, except in dreams.'"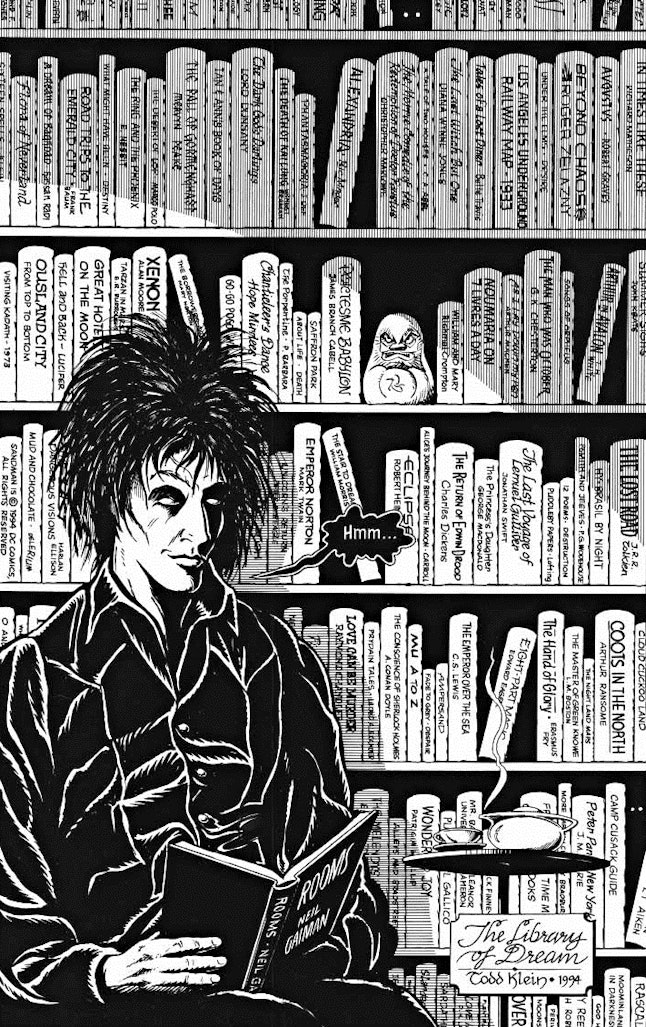 Buy the book: Amazon | Book Depository
4. Flourish and Blotts
from Harry Potter
Again, I would just love to explore all of the magical books! I'd probably want to take them all home, but who wouldn't? I really loved how much variety and how unique all of the books sounded when J.K. Rowling described the contents of it in the first book (from the quote below), which makes me want to visit this store even more.
"They bought Harry's school books in a shop called Flourish and Blotts where the shelves were stacked to the ceiling with books as large as paving stones bound in leather; books the size of postage stamps in covers of silk; books full of peculiar symbols and a few books with nothing in them at all."


Buy the book: Amazon | Book Depository
5. Literary Apothecary
from The Little Paris Bookshop by Nina George
Even though I didn't love this book, I still loved the bookshop! The protagonist, Jean Perdu, has a bookshop in which he basically hands books out as if they are medicine to people suffering from any ailment. It's a lovely idea, as books really can help with many of our struggles, and I would love to stop by and see what Monsieur Perdu would pick out for me.
"Kästner was one reason I called my book barge the Literary Apothecary," said Perdu. "I wanted to treat feelings that are not recognized as afflictions and are never diagnosed by doctors. All those little feelings and emotions no therapist is interested in, because they are apparently too minor and intangible. The feeling that washes over you when another summer nears its end. Or when you recognize that you haven't got your whole life left to find out where you belong. Or the slight sense of grief when a friendship doesn't develop as you thought, and you have to continue your search for a lifelong companion. Or those birthday morning blues. Nostalgia for the air of your childhood. Things like that."

Buy the book: Amazon | Book Depository
6. Belle's Library
from Beauty and the Beast
I don't actually know any bookworm who hasn't at one point expressed a desire for Belle's gorgeous library. As a kid, we had these 'Look & Find' books and one of my favorites was the Beauty and the Beast one because I loved the incredible huge library spread. I would stare at that for the longest time and see all that I could explore.
""I see books--hundred of books in shelves that line every wall of the room. The shelves are not orderly; books are shoved in every which way, upright, or stacked sideways, or all atilt against various objects that appear to have been undisturbed for ages...Some are even piled up in corners on the floor, but they are everywhere. On three walls, the bookfilled shelves rise nearly all the way up to the high vaulted ceiling..." - Beast: A Tale of Love and Revenge by Lisa Jensen
Buy the book: Amazon | Book Depository
7. Mr. Penumbra's 24-Hour Bookstore
from Mr. Penumbra's 24-Hour Bookstore by Robin Sloan
There are a lot of intriguing things about this bookshop, but the stand-out part of it to me is that it's a 24-hour bookshop. Do I ever feel the need to go to a bookstore at two in the morning? I mean, not usually, but do I want the option so that I can take advantage of it? Yes!
"After that, the book will fade, the way all books fade in your mind. But I hope you will remember this: A man walking fast down a dark lonely street. Quick steps and hard breathing, all wonder and need. A bell above a door and the tinkle it makes. A clerk and a ladder and warm golden light, and then: the right book exactly, at exactly the right time."
Buy the book: Amazon | Book Depository
8. Parnassus
from Parnassus on Wheels by Christopher Morley
It's a bookstore on wheels! What else is there to say?
"When you sell a man a book you don't sell him just twelve ounces of paper and ink and glue - you sell him a whole new life. Love and friendship and humour and ships at sea by night - there's all heaven and earth in a book, a real book I mean."
Buy the book: Amazon | Book Depository
For this one, it's not so much the library itself that I'm interested in (though I'm sure there are some great books), but there is this device that the protagonists gets to use once that can basically find any book you're looking for. You just sort of stand there and think about what you want or what type of information you're looking for, and then it shows you where the books are that you need. Coolest thing ever? I'd say so.
"They were in a large room--massive, really--and every wall, every inch of wall, was filled with books. They stretched away into each corner; father along avian saw an open doorway, through which it seemed there was another room also full to the brim with tomes.
...
The stone beneath his palm began to glow; Davian snatched his hand away as if burned...A thread of blue light crept from the stone, slowly but surely stretching out, moving toward the wall until it came to rest touching the spine of a small red book."
from Strange the Dreamer by Laini Taylor
I can't for the life of me recall if the library Lazlo works at actually has a name (??), but I think it'd be fun to visit. I'll admit, the main reason I want to visit is to run into Lazlo Strange because he is one of the best fictional characters out there,
but
I'm sure there are still plenty of fascinating books lining those shelves to explore.
"He had loved the library, and had felt, as a boy, as though it had a kind of sentience, and perhaps loved him back. But even if it was just walls and a roof with papers inside, it had bewitched him, and drawn him in, and given him everything he needed to become himself."
Have you read any of these books? What fictional bookstores/libraries would you love to visit?