Can't-Wait is a weekly meme hosted by Wishful Endings that spotlights exciting upcoming releases that we can't wait to be released! This meme is based off of Jill @ Breaking the Spine's Waiting on Wednesday meme.
This week's upcoming book spotlight is:
Four Dead Queens by Astrid Scholte
Publication Date: February 26th, 2019
From Goodreads:
"
A divided nation. Four Queens. A ruthless pickpocket. A noble messenger. And the murders that unite them. ​
Get in quick, get out quicker.
These are the words Keralie Corrington lives by as the preeminent dipper in the Concord, the central area uniting the four quadrants of Quadara. She steals under the guidance of her mentor Mackiel, who runs a black market selling their bounty to buyers desperate for what they can't get in their own quarter. For in the nation of Quadara, each quarter is strictly divided from the other. Four queens rule together, one from each region:
Toria: the intellectual quarter that values education and ambition
Ludia: the pleasure quarter that values celebration, passion, and entertainment
Archia: the agricultural quarter that values simplicity and nature
Eonia: the futurist quarter that values technology, stoicism and harmonious community
When Keralie intercepts a comm disk coming from the House of Concord, what seems like a standard job goes horribly wrong. Upon watching the comm disks, Keralie sees all four queens murdered in four brutal ways. Hoping that discovering the intended recipient will reveal the culprit – information that is bound to be valuable bartering material with the palace – Keralie teams up with Varin Bollt, the Eonist messenger she stole from, to complete Varin's original job and see where it takes them.
"
I love a good thief/pickpocket, and the unexpected pairing component plus the four different quarters
plus
the 'queens getting murdered' thing all stand out to me. Really looking forward to this one!
and...
The Psychology of Time Travel by Kate Mascarenhas
Publication Date: February 12th, 2019
Crooked Lane Books
336 pages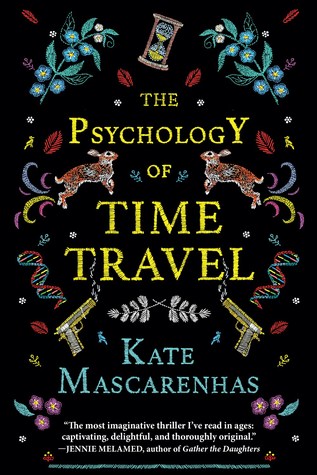 From Goodreads:

"
Perfect for fans of Naomi Alderman's The Power and Margot Lee Shetterly's Hidden Figures comes The Psychology of Time Travel, a mind-bending, time-travel debut.
In 1967, four female scientists worked together to build the world's first time machine. But just as they are about to debut their creation, one of them suffers a breakdown, putting the whole project—and future of time travel—in jeopardy. To protect their invention, one member is exiled from the team—erasing her contributions from history.
Fifty years later, time travel is a big business. Twenty-something Ruby Rebello knows her beloved grandmother, Granny Bee, was one of the pioneers, though no one will tell her more. But when Bee receives a mysterious newspaper clipping from the future reporting the murder of an unidentified woman, Ruby becomes obsessed: could it be Bee? Who would want her dead? And most importantly of all: can her murder be stopped?
Traversing the decades and told from alternating perspectives, The Psychology of Time Travel introduces a fabulous new voice in fiction and a new must-read for fans of speculative fiction and women's fiction alike.
"
In general, I'm not usually drawn to time travel stories,
but
this one sounds really unique and the mystery sounds really interesting. I really have no idea what to expect so I'm just expecting great things and can't wait to (hopefully) have a chance to read it!
What do you think about these upcoming releases? What are your anticipated upcoming releases?